Coming Back to Cloud Field Day for the Second Time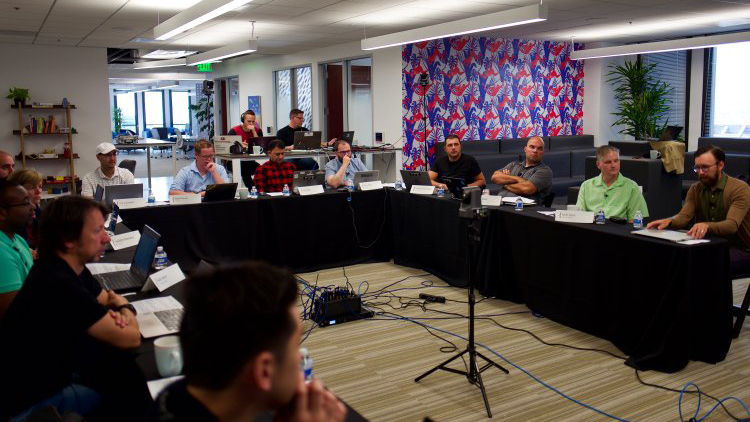 This time around it was for Cloud Field Day 4 and despite the concept being the same, the experience was so much different than CFD3.
Quick Jump: How was it different than Cloud Field Day 3? | Day 1 (Tuesday): Arriving at the Hotel | Day 2 (Wednesday): Our First Presentations | Day 3 (Thursday): Off to San Francisco | Day 4 (Friday): Wrapping up the Presentations | Day 5 (Saturday): Leaving the Hotel | Final Thoughts
In case you're not sure what Cloud Field Day is, I wrote about my first experience going to Cloud Field Day 3 back in April 2018.
The TL;DR is it's a 3 day live tech event where about a dozen technology enthusiasts sit in on presentations given by tech vendors and we ask unscripted questions about their products and services. Stephen Foskett has been successfully running these events for 9+ years.
Like most mornings I checked my email but something special happened on July 6th, 2018.
As I was skimming through subject lines, I saw "You are invited to Cloud Field Day in August!". You know that feeling when your favorite part of a song is about to happen and the hairs on the back of your neck stand up and you get goosebumps? That's what happened here.
I had no idea they were doing another Cloud Field Day (CFD) this soon so it came as a total surprise. Given that CFD3 was a life changing event for me, I graciously accepted Stephen's invitation.
2 days later their travel agent contacted me and we booked the flight. It was the same route as last time which included about 6.5 hours of flying with 1 layover.
As a bonus it just so happened 2 other delegates (Hi Nate and Keith) were scheduled on the same 5.5 hour flight from BWI to SJC so I got to meet them early.
How was it different than Cloud Field Day 3?
While the concept of Cloud Field Day was the same, the experience was much different.
Presentation Schedule
CFD3 had (9) 2 hour presentations over 3 days. We did 3 on the first day, 4 on the second day and 2 on the last day. CFD4 had (5) presentations over 3 days in a 2:1:2 spread.
But, even with a more relaxed presentation schedule the days were action packed. We mostly left our hotel room at about 7am and returned back to our rooms at 10pm'ish.
The People
Other than Stephen, the A / V crew and Ramone (limo driver) everyone was new to me.
Stephen tries to bring in a healthy mix of new delegates to each event, but of the delegates who have been to previous events, none of them were at CFD3.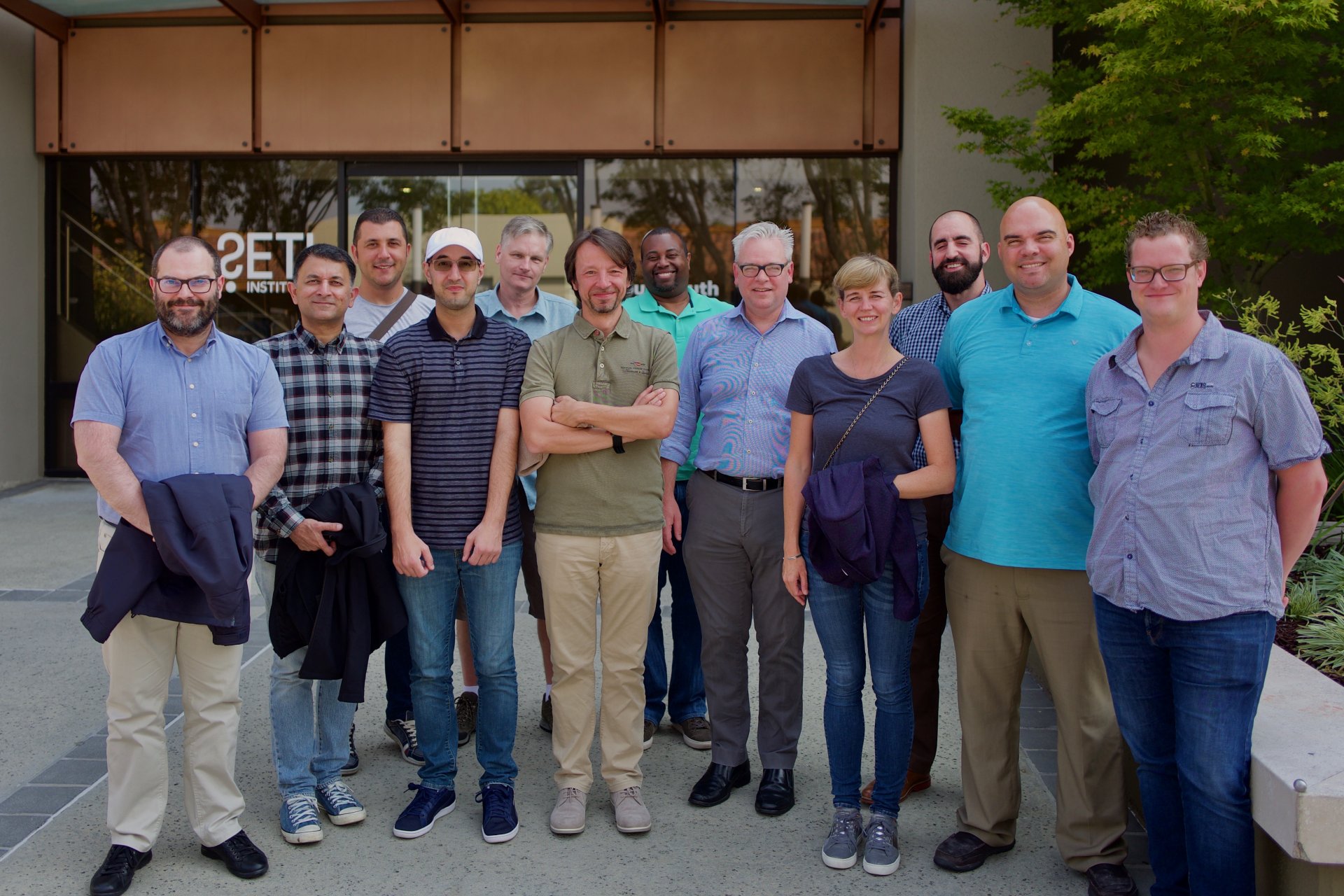 Image source: Tom
This picture was taken in front of the SETI Institute which is something we did as a side event since the presentation schedule was so relaxing.
From back left to back right and then front left to front right:
Tom Hollingsworth took the above picture. He is an organizer for Tech Field Day. He wasn't at the previous CFD3 event so I didn't get to meet him until this time around.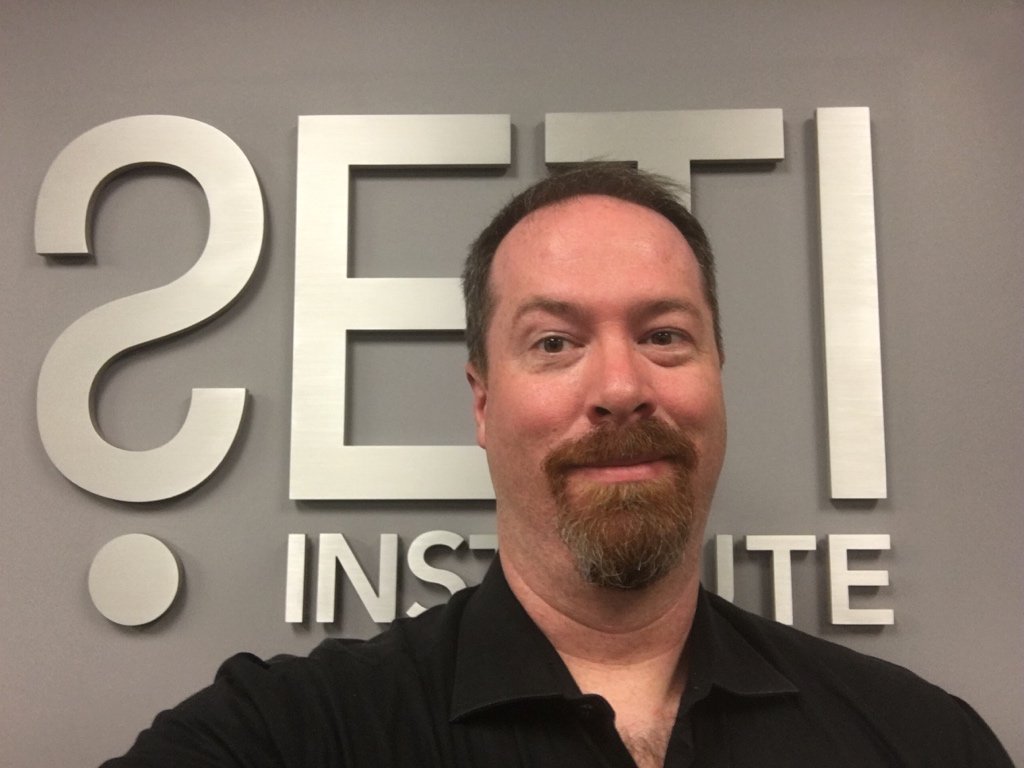 Image source: Tom
Tom has an unlimited amount of funny tech event stories. He definitely kept us entertained and safe. Nate said it best in Slack "Never before have I traveled anywhere without worry". That really captures the experience of what Stephen, Tom and the other organizers pulled off.
The only time I had an ounce of worry was when we were driving to San Francisco in the limo. Stephen was telling us a story about how a lot of big tech companies offer buses to commute to and from SF for work and that certain people shot guns at the buses because a lot of people in SF are upset that technology has taken over the town.
After that story I began wondering if the limo was bullet proof for a few minutes.
The Hotel
Last time we stayed in the Marriott hotel, but this time around we stayed at the Hilton DoubleTree. Both were top notch experiences but if I had to pick one, I preferred the DoubleTree since it had central air instead of a loud A / C wall unit.
We didn't share a room but a lot of the rooms there have double beds.
Image source: Nick
Day 1 (Tuesday): Arriving at the Hotel
Technically the event is 3 days long but a lot of us come in at least 1 day before the event and depart a day after the event, so for me it was really a 5 day event and this article treats day 1 as the first day I arrived.
Wheels Down
After we landed in San Jose, CA. Keith, Nate and myself hopped onto a shuttle to the hotel. The DoubleTree is only 5 minutes or so from the airport so it was a quick ride.
We even got to share a shuttle with the SouthWest flight crew so that was fun. Two of the crew members were with me for the 1 hour Islip, NY to BWI flight (before the flight with Nate and Keith) and I overheard one saying she was connecting to the same flight as me.
When I asked how far our gate was, she said "you better bring wheels" then gave me a look that said "yeah, it's pretty far, really make an effort to get there on time".
I only had a 1 hour layover which is pretty short considering you typically start boarding 30 minutes before take-off, and it often takes 10 minutes to get off your current plane. That only leaves 20 minutes to use the restroom, find your gate and maybe eat lunch – assuming everything is running on time.
I pretty much got off the plane, went to the restroom and half jogged to my gate (from C8 to B12). It was quite the journey and I arrived to see everyone in the SoutWest A group already lined up (I had an early bird ticket and SouthWest boards you by group letter in a first come first serve seating arrangement).
It looked like everyone was ready to board and then someone asked me what boarding number I had, and it just so happened we both had the same number. Oops, it looks like this gate got changed to a different flight. Someone said my flight was moved to a different gate an hour ago.
Luckily it was only 1 gate over and boarding was slightly delayed because our crew was still making their way over. Keep in mind they have to stay on the plane for a few extra minutes to ensure everyone is off and settled and also board the next plane early to get prepared.
That's where I first met Keith and shortly after that Nate popped in.
Checking In
We were one of the last groups of delegates to arrive but we still had plenty of time before our welcome dinner. I'm not sure where I was in this picture, probably still unpacking.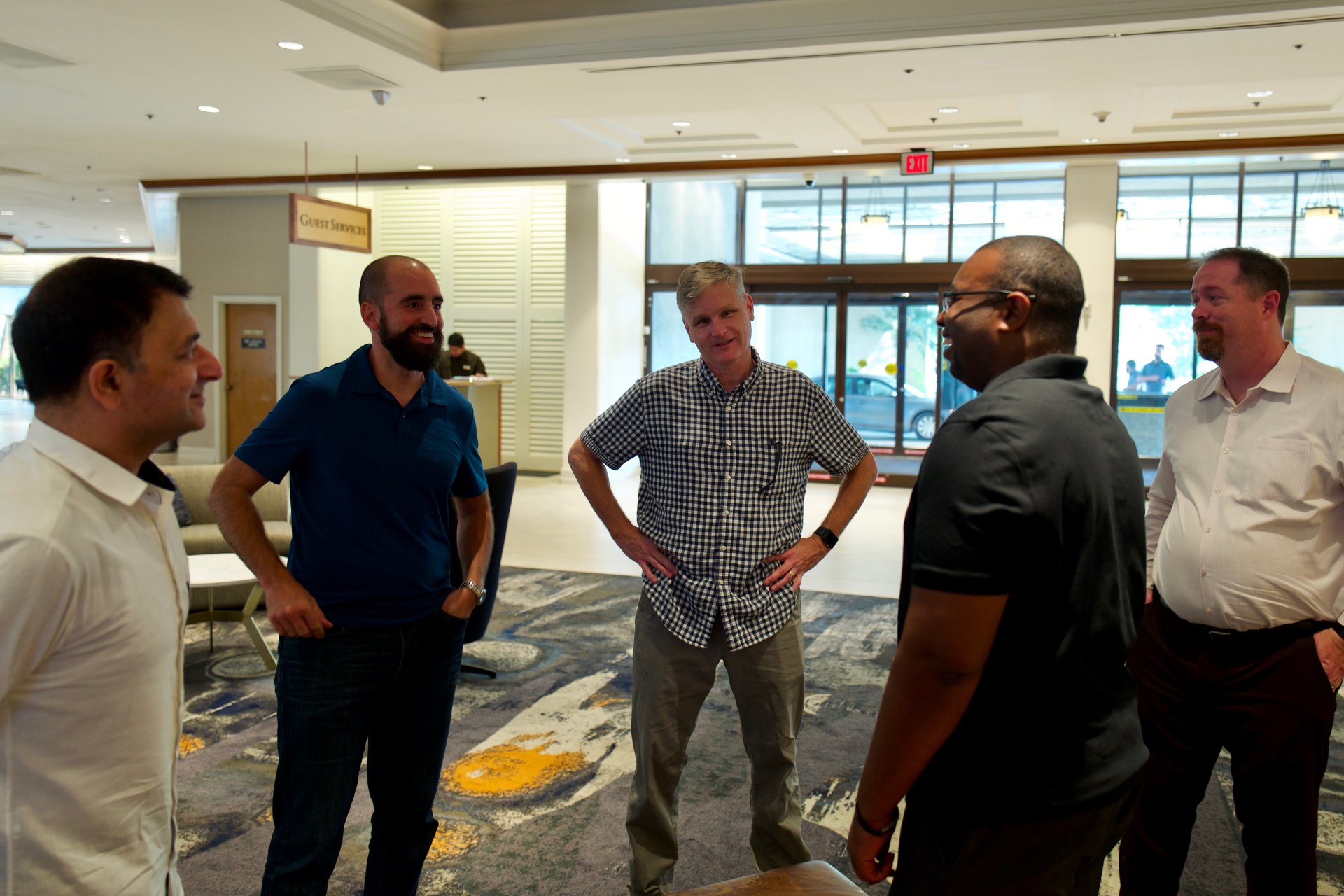 Image source: Stephen
Welcome Dinner
After we all got situated, it was time for the welcome dinner at the hotel. Stephen usually goes all out here. We had a private room with lots of table appetizers, a fancy main course and dessert.
This hotel is well known for having an excellent steakhouse but they also had plenty of vegetarian meals to choose from. I went for the 12oz prime center cut New York Strip. I can't remember the last time I had such a nice meal, probably the welcome dinner from CFD3!
In between eating, we all exchanged gifts as seen below: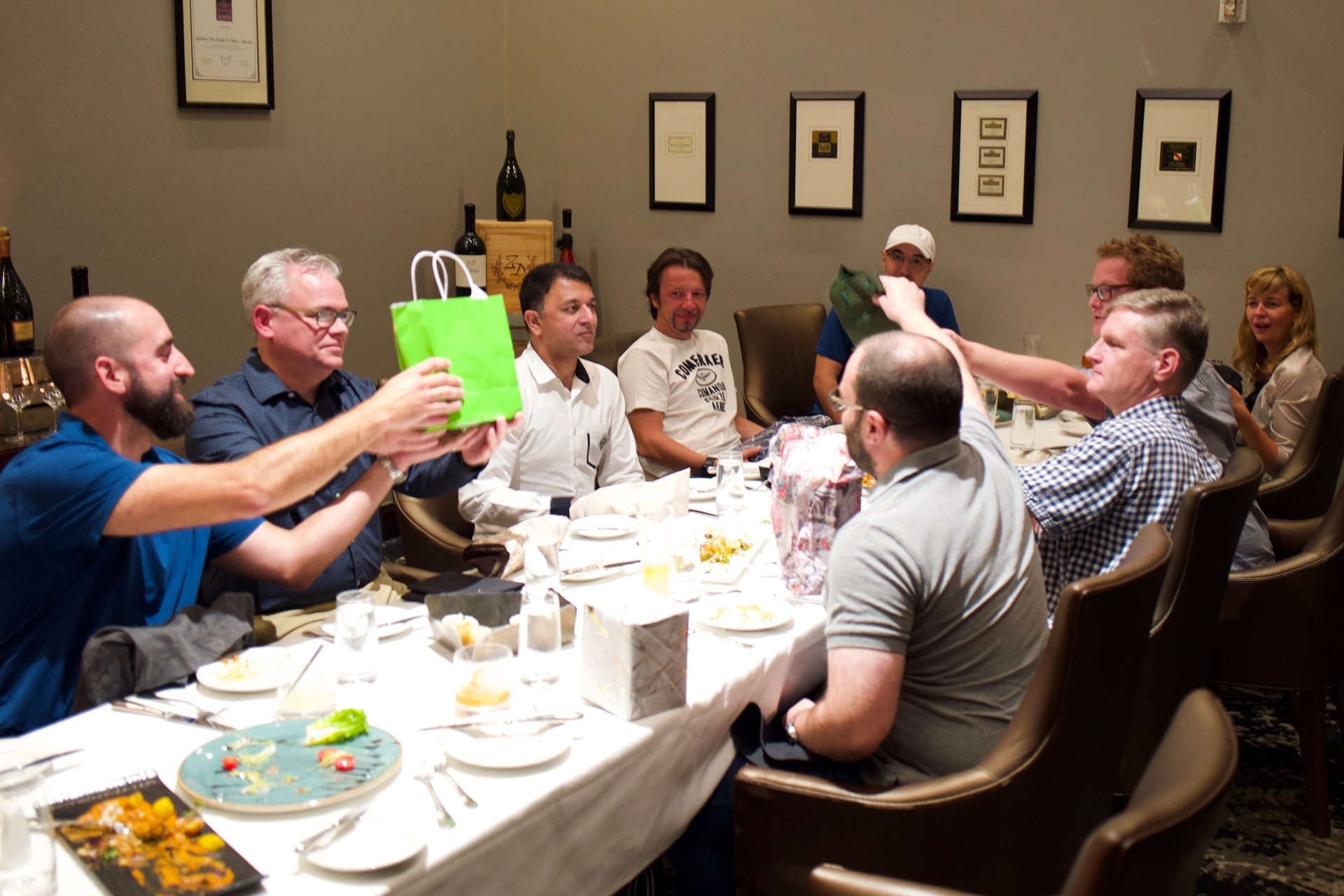 Image source: Tom
I really like these welcome dinners. I didn't write about it in my first Cloud Field Day experience article because if you're an upcoming delegate who hasn't experienced CFD yet I didn't want to spoil the experience.
It's a really important dinner because it gives all of us a chance to meet each other in a very casual atmosphere. There's no video cameras or microphones. During the gift exchange we also stand up and introduce ourselves.
For someone who might not be that comfortable with speaking in front of an audience (even if it's something as basic as giving a 30 second introduction) it really helps ease you into it. I'm sure Stephen knows this which is why he continues to do them.
Sleep?
After dinner, most of us headed back to our rooms at about 10pm. I'm happy to report that I did manage to get about 5 hours of REM sleep which was broken up into about 3 hour and 2 hour chunks.
That was a huge improvement over CFD3 because for that event it took me until the third day before I was able to really fall asleep.
Going to CFD3 really leveled me up as a person. The first presentation of CFD3 was very intense for me. My heart was beating at 100+ BPM for most of the 2 hours and I was "in my head" the whole time. I bet if I were hooked up to a heart monitor and someone looked at it with no context, they would have thought I was being chased by a Tyrannosaurus Rex.
I did manage to ask a question which even got a couple of laughs, but boy was I nervous.
But this time around, it was much better. I still wasn't super confident and of course I was a little on edge with impostor syndrome, but overall I felt comfortable and at ease. I was able to externally focus on the discussions. It was like a completely different experience.
Experience is such a critical thing for anything. It doesn't matter if you're writing code, learning to ride a bike, or getting comfortable with being on camera and speaking in a group. It all boils down to being exposed to the situation and practicing it.
Day 2 (Wednesday): Our First Presentations
The day started off with a healthy breakfast in the hotel at about 7:30am: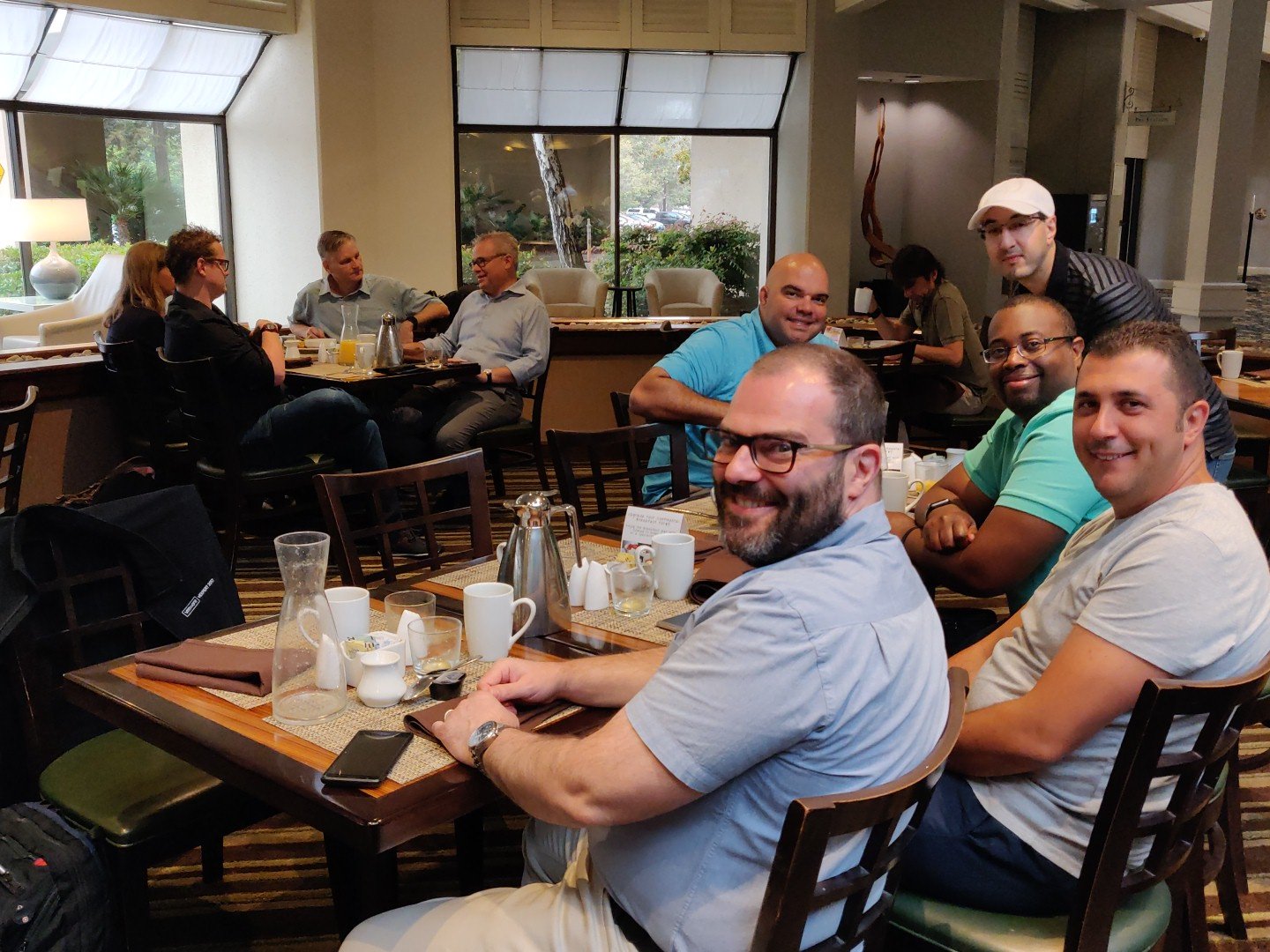 Image source: Ather
I tried to squeeze in at the last second. Have to love those blink shots!
Both presentations for today were also held in one of the hotel's conference rooms.
During CFD3 only the first presentation was at the hotel. Having the first one at the hotel is nice because it's the least stressful place to have it. There's no limo to catch and Stephen also books about 1 hour to have a welcome meeting before the first presentation.
This gives you plenty of time to get hooked up to the audio matrix: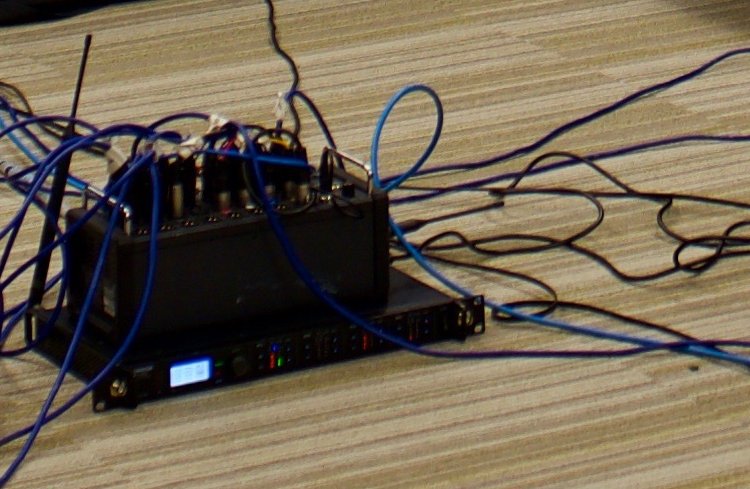 Image source: Nick
It's also informative because Stephen explains how everything works once you arrive in the presentation room. There are checklists to execute so that things run smoothly.
Our First Presentation
Like the first CFD post, I'm not going to dive deep on the technical presentations because those are better suited for individual blog posts.
But we did meet with SoftNAS for our first presentation: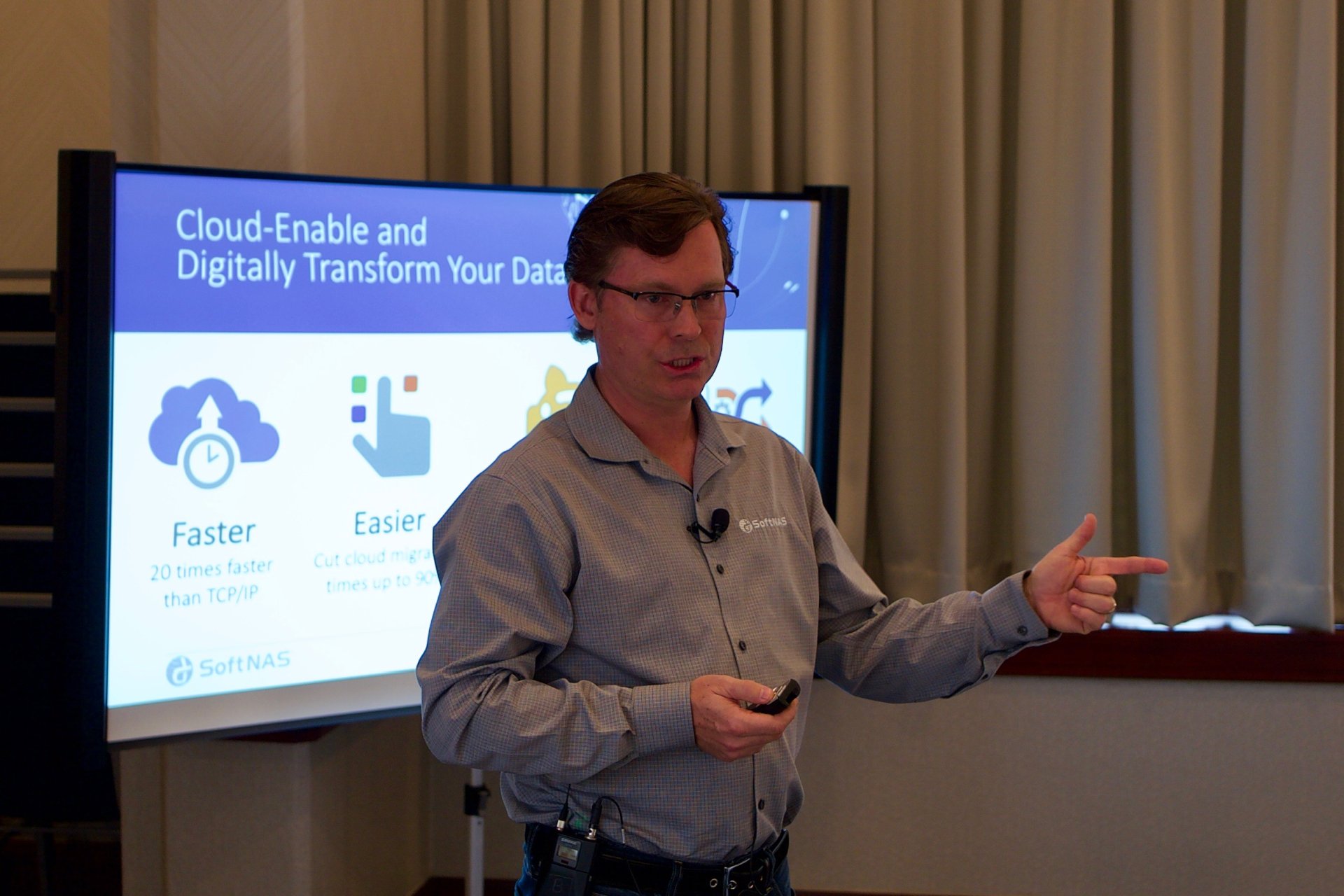 Image source: Stephen
After their presentation we had lunch. It was Fajitas from the hotel which was brought up to the conference room area. The hotel did a good job with it. Everything was hot and ready to go as soon as we broke for lunch.
We ate in the same conference room as the presentation, which is always exciting because mixing food, drinks and electronics can be a deadly combination.
Luckily no one ruined their laptops or audio equipment through out the entire trip but there was a shirt causality on day 3 that involved a coffee explosion, and nearly a broken iPhone. I'm not going to name any names so don't worry, your secret is safe with us!
Round 2
After lunch we had a 1 hour session with Aviatrix: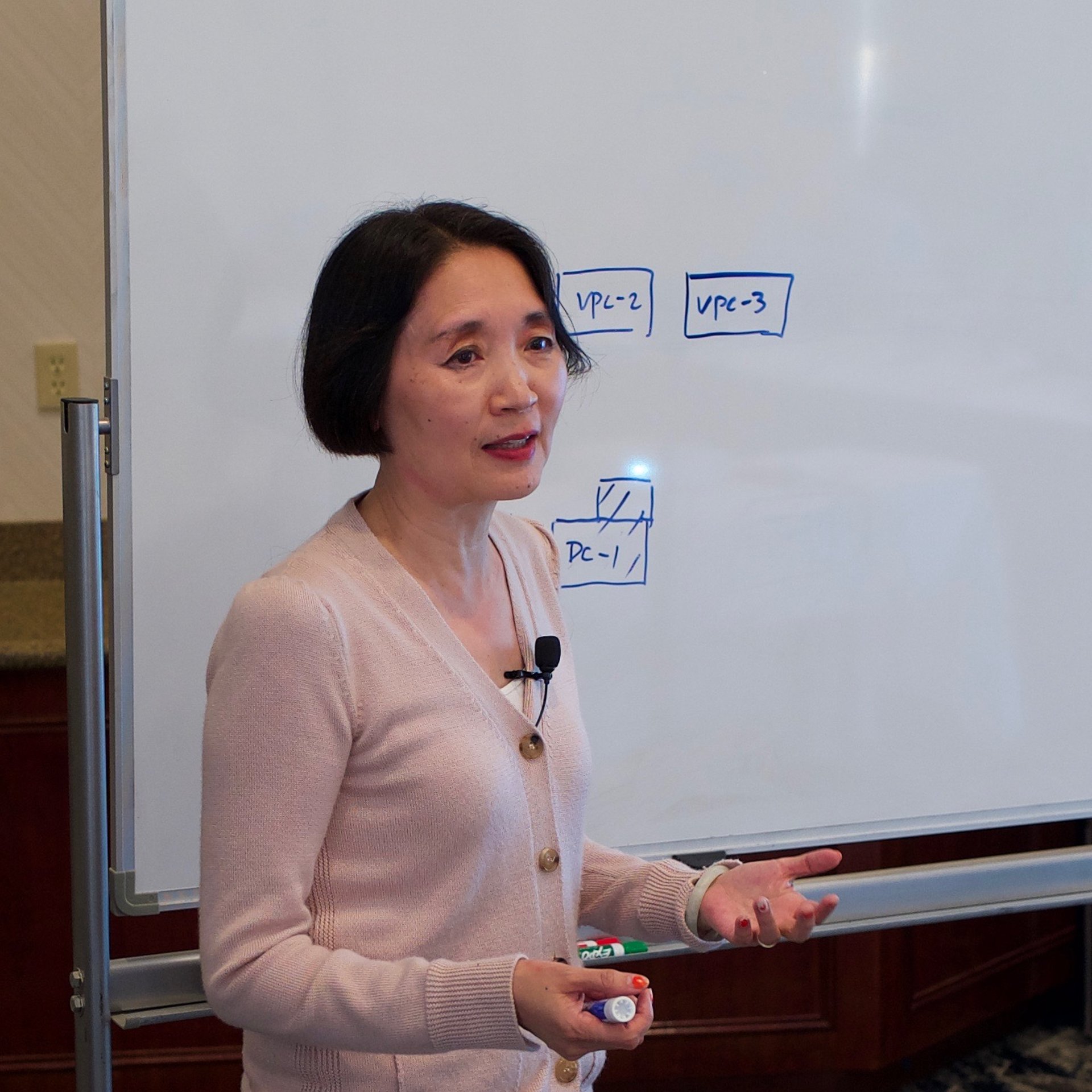 Image source: Stephen
This one was interesting because it was the first 1 hour presentation I've seen so far. Most presentations are 2 hours but I heard in the past a 4 hour session was once delivered.
Once Aviatrix was over, we were done for the day when it came to official presentations. At this point it was around 3pm I think and the day was still young.
Podcast Mania
Stephen scheduled a bit of time to record a few On-Premise IT Roundtable podcasts. This is something he likes to record at Tech Field Day events where 3 or 4 delegates sit around and discuss a point of interest for about 20 minutes.
All of the podcasts for this event (we recorded 3 of them) aren't up yet but I will come back and edit this post once they are available.
Joep, Pietro and Ather talked about how to go cloud-native if you're already on-premises: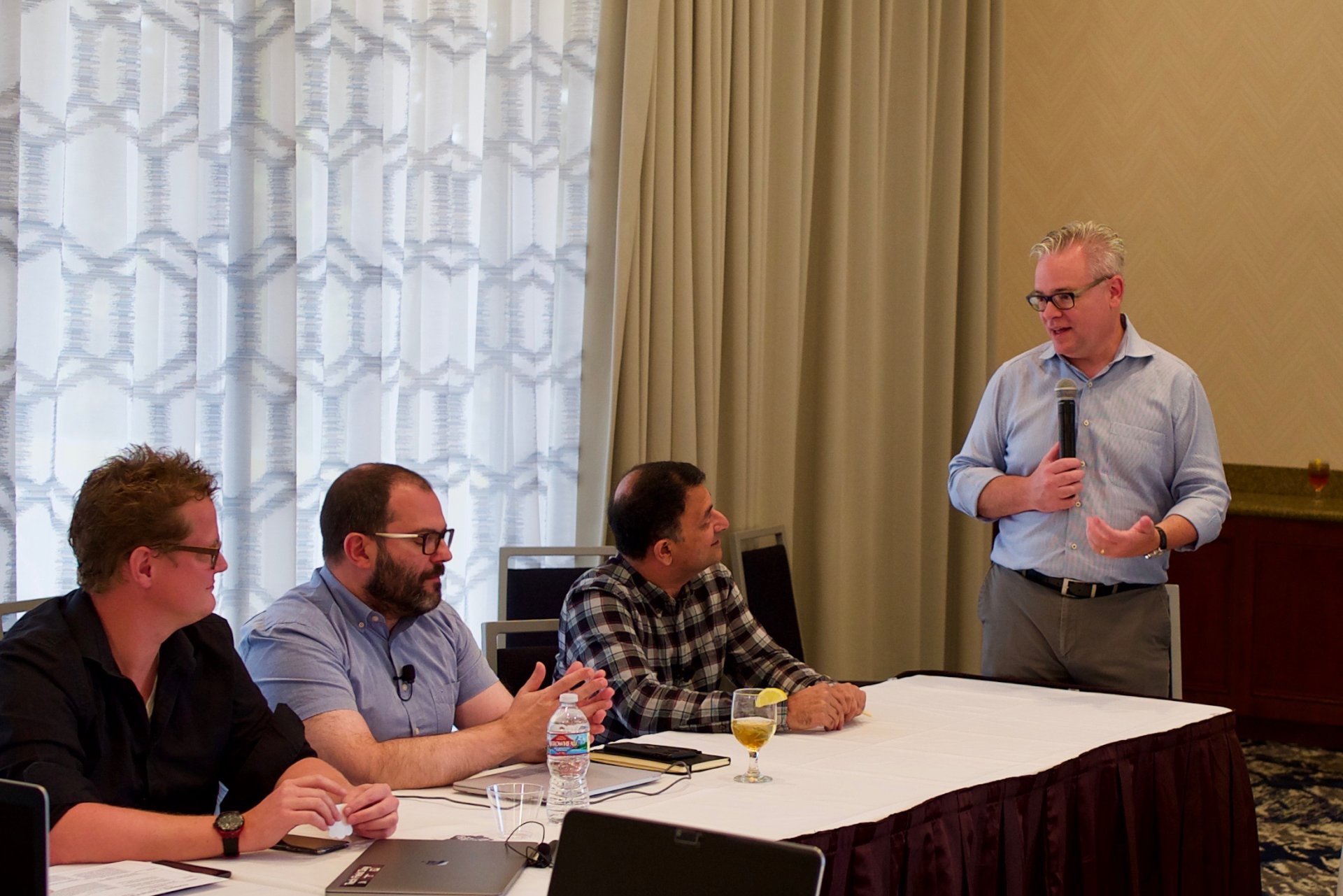 Image source: Nick
Stephen put me in charge of taking pictures for the first podcast. His Leica camera makes it so easy. Just stand still and click a button.
After that, the next podcast started once they picked a topic.
Ken, Greg and Nate discussed if hyperconvergence is just a detour on the way to the cloud: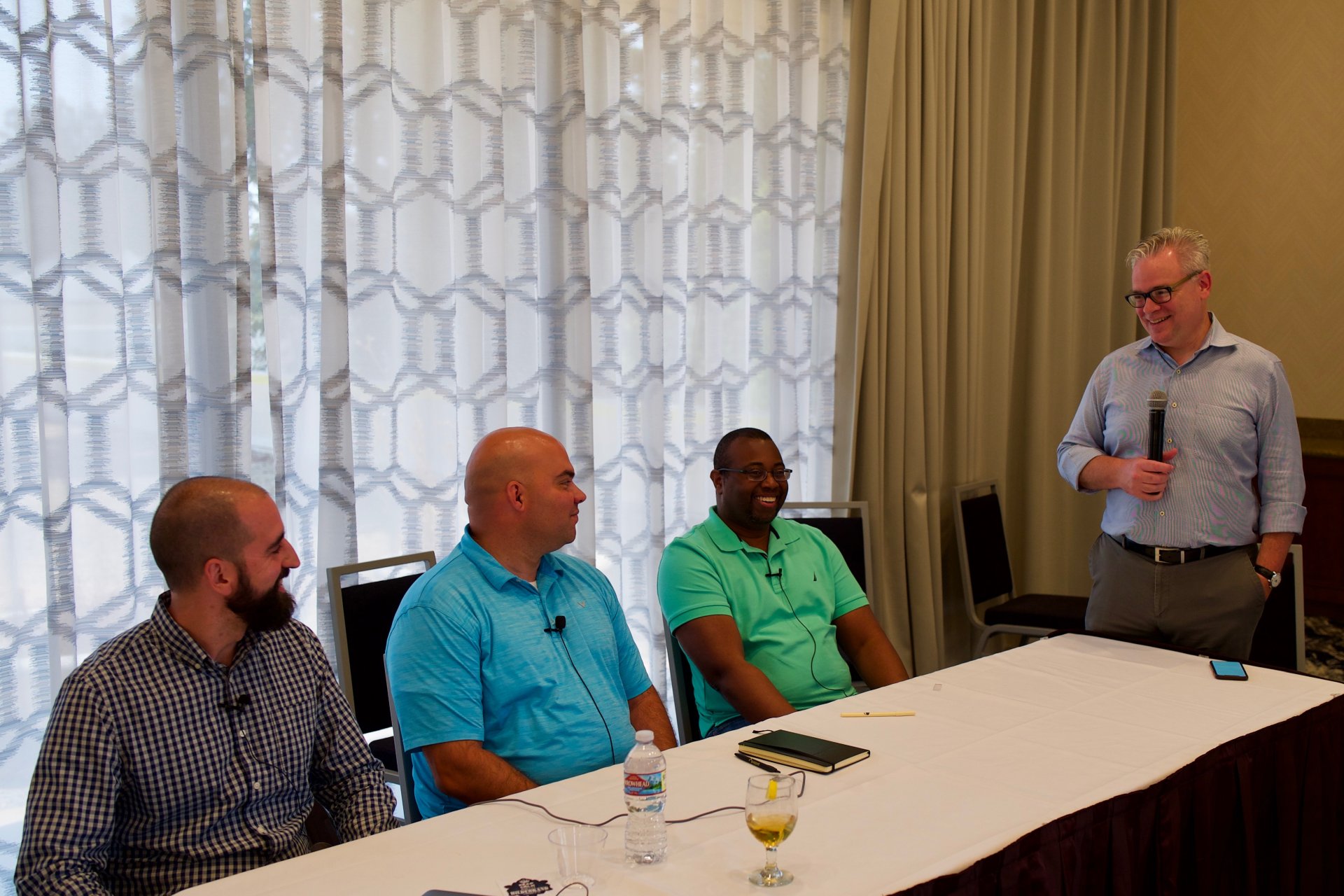 Image source: Tom
I didn't take pictures of this one because I was outside the conference room talking with a few other delegates. High quality audio is critical for podcasts so we tried to keep it as silent as possible in the room.
No complaints here. It felt good to stretch my legs after a few hours of sitting.
SETI Institute
Since we had quite a bit of down time, CFD4 was loaded with cool activities. This really made the CFD4 experience so much different than CFD3. Don't get me wrong, CFD3 was great too, but CFD4 felt like a legit vacation at times.
I was really excited when Stephen said we were going to visit the SETI headquarters.
I'm a huge sci-fi fan and being exposed to real life science made me appreciate that life is so much bigger than just writing code and making courses. Nearly every problem you have becomes trivial when you step back and attempt to take in the scope of the Universe.
We were given an unforgettable tour by Seth Shostak: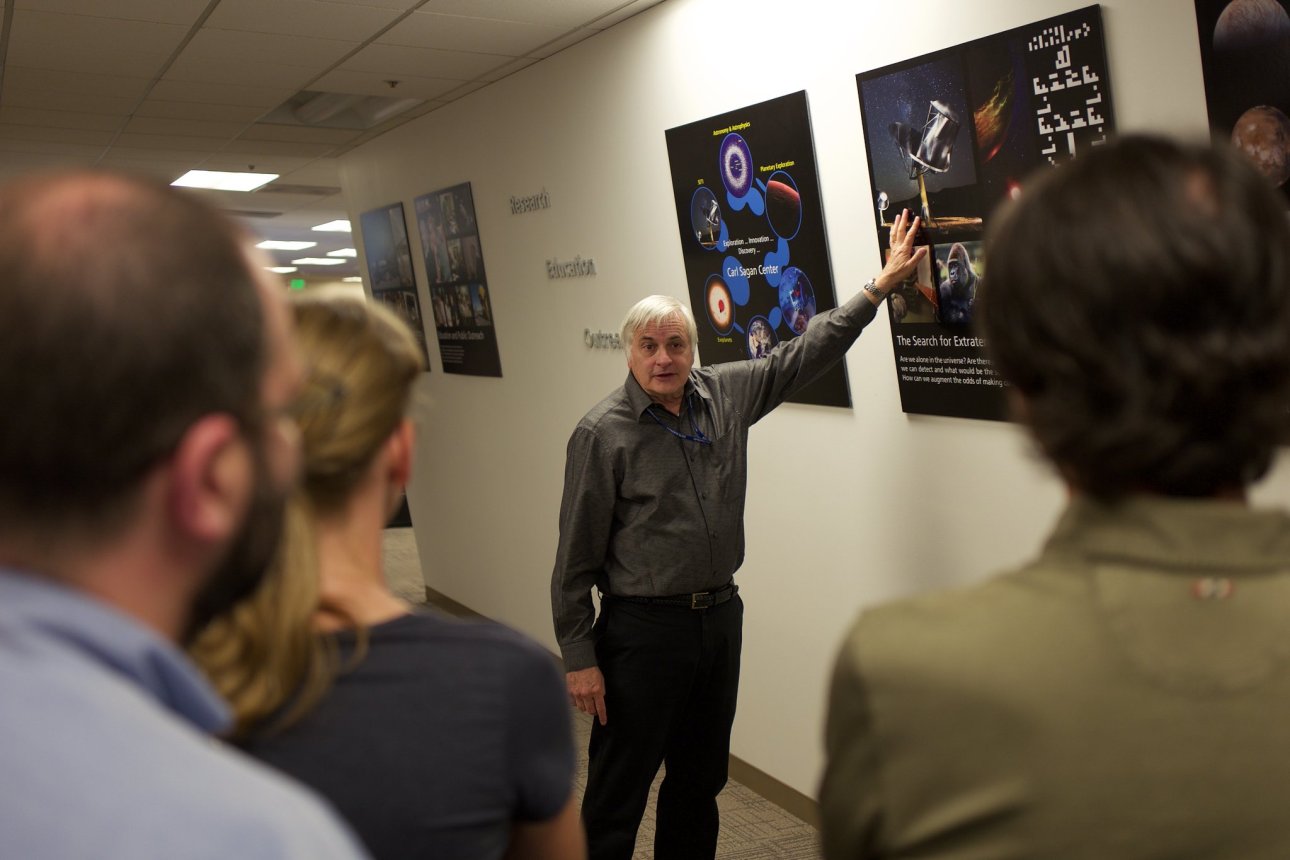 Image source: Stephen
This was the first time I've met Seth and was unfamiliar with his work but during our 1 hour tour I felt like I got to experience something truly special.
I'm sure you've experienced tour guides before at various museums and other points of interest. Most of them are decent but Seth is operating on a different plane of existence.
What we got wasn't just a tour of the SETI institute by SETI's "tour guide employee". We received a personal experience from someone who is at the top of their field. Seth holds a Ph.D. in astrophysics from CalTech (among other things).
I won't bother listing all of his credentials since that's available on his Wikipedia page, but what his Wiki page doesn't tell you is what he's like in real life.
He's really funny without it sounding like he's trying too hard, brought us into the conversation to make it feel personal and knows how to explain complex scientific topics in a way that "normal people" can understand. Total mastery of his craft.
I could have easily listened to Seth all day and left wanting to know more. Lucky for me (and maybe you), Seth and his co-host Molly Bentley run the weekly Big Picture Science podcast.
If you have an ounce of interest in discovering life outside of our planet or are interested in space exploration in general please donate something to the SETI Institute.
They didn't ask us for money, and I have no obligation to pitch donations on their behalf. This is just another human speaking to another human here.
Stephen was kind enough to buy a bunch of patches and stickers for us: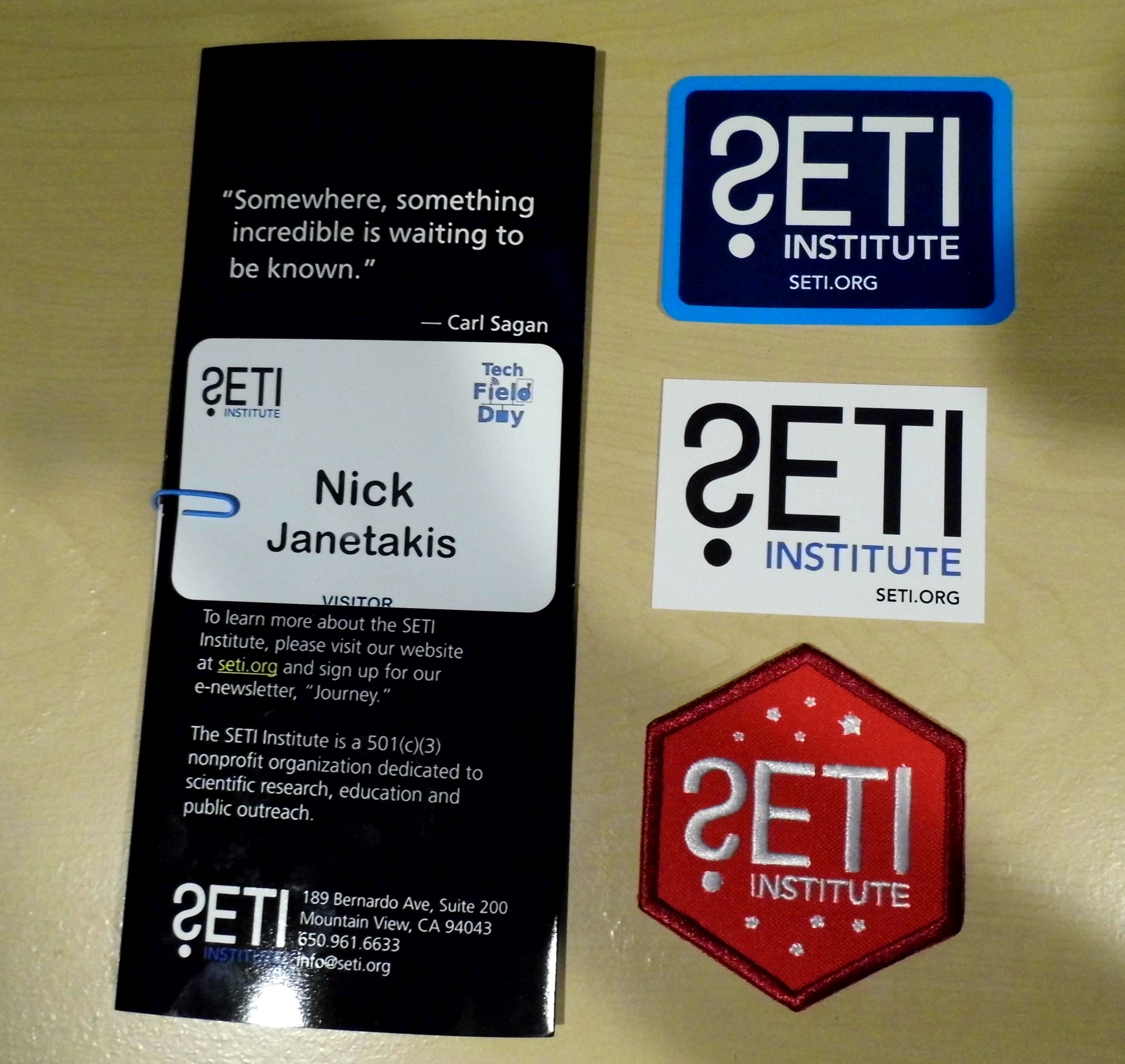 Image source: Nick
A few delegates also picked up a couple of shirts and hats.
If you're ever in the San Jose / SF area, do yourself a favor and visit them.
By the way, I remember near the end of the tour, Ather said that visiting here was one of the best experiences of his life. Seth joked around saying Ather must not live a very exciting life, but that moment captured exactly how I felt too.
Thanks for doing what you do Seth. Your impact on our Universe will not be forgotten.
Cocktails at Faz
I'm not a regular drinker but I use CFD as an excuse to try new things out. Most nights involved drinking a couple of beers. It still surprises me that I can drink about half a cup of beer and feel the effects minutes later.
This reception was outdoors and the weather was perfect. Not too hot, but not too cold. This gave us all a chance to know each other a little bit better.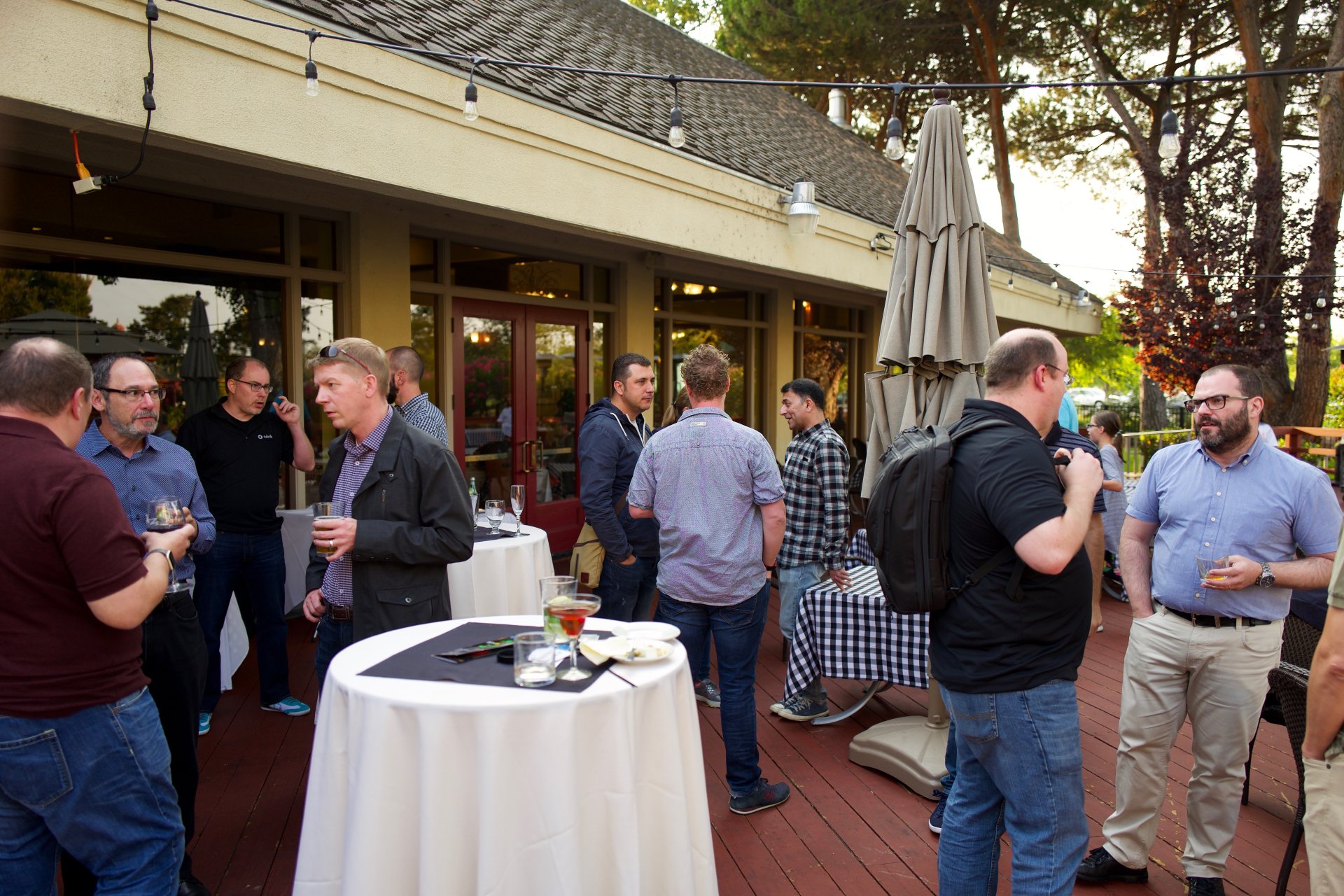 Image source: Stephen
It wasn't only delegates who were invited. A few presenters from various companies joined us – even people who weren't attending this CFD's presentations.
I got a chance to meet up with Andrew Miller from Rubrik which is someone I met at CFD3. He is the dude near the back left of the above picture (bright blue sneakers and glasses).
The food was pretty good. I remember eating a few hot peppers. One of them made me double check my lips just to make sure they didn't melt off.
At the time I was standing around with Ken, Pietro and Raff. I made a comment about how hot they were and Ken got curious. He went up and grabbed one, then ate it. The guy didn't even flinch. Apparently he's some type of spicy food god. Well played.
Dinner at In-N-Out Burger
We didn't know we were going here until we left Faz. I didn't completely fill up at Faz and I don't eat a ton of fast food, so going here was welcome, especially because I have never been to an In-N-Out burger before. Solid burger!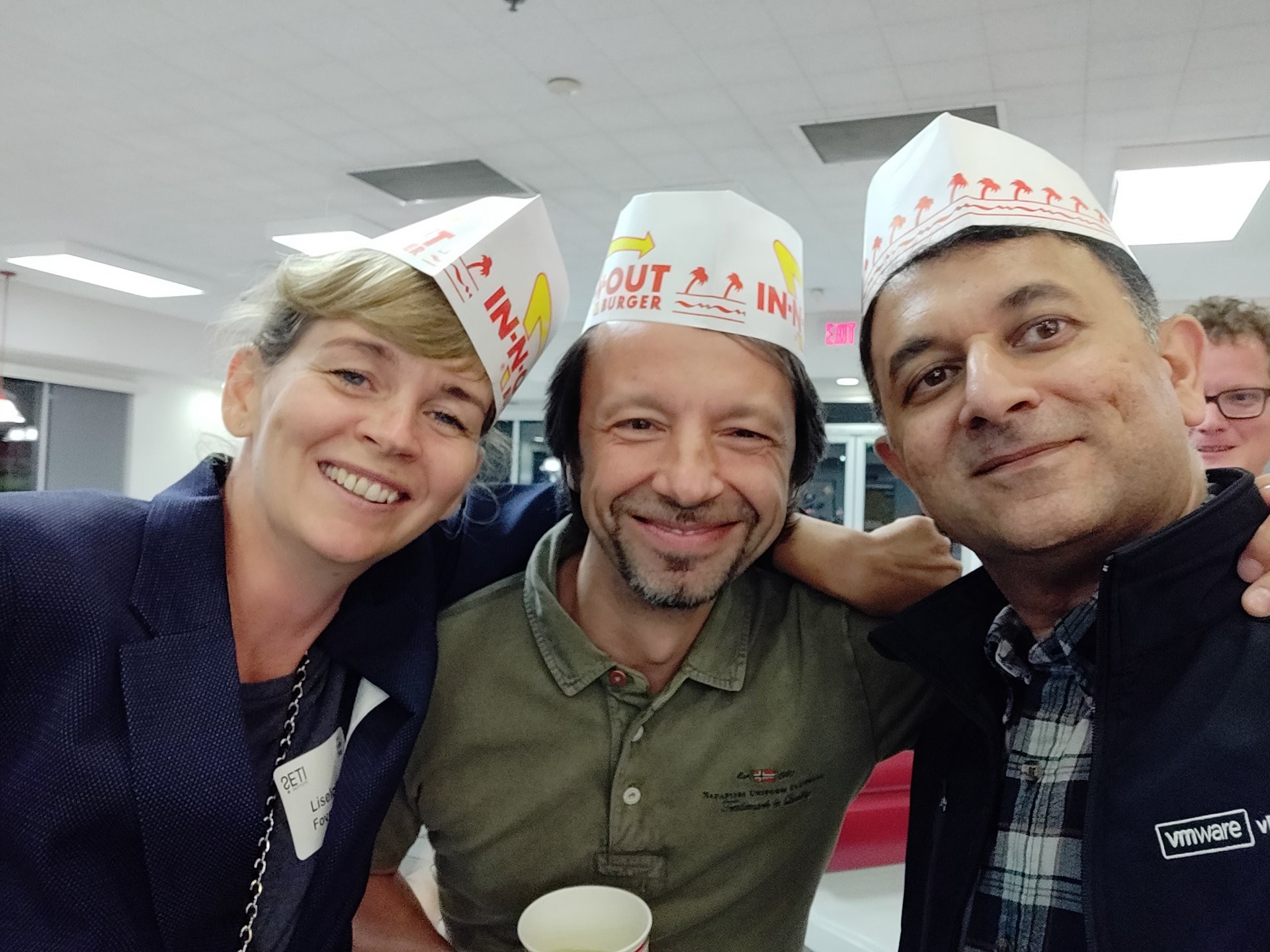 Image source: Ather
A lot of us haven't been here before, so we got hats. In this picture you can see Liselotte liked SETI so much she kept her name tag on too.
We both got In-N-Out burger T-shirts, along with a few others. I recommended that she should wear both the T-shirt and hat to the next day's presentations but that didn't happen.
In the back left, you can see Joep staring at something with the intensity of a 1,000 suns.
Ken took a really good group picture, but most of us had no idea he was taking it: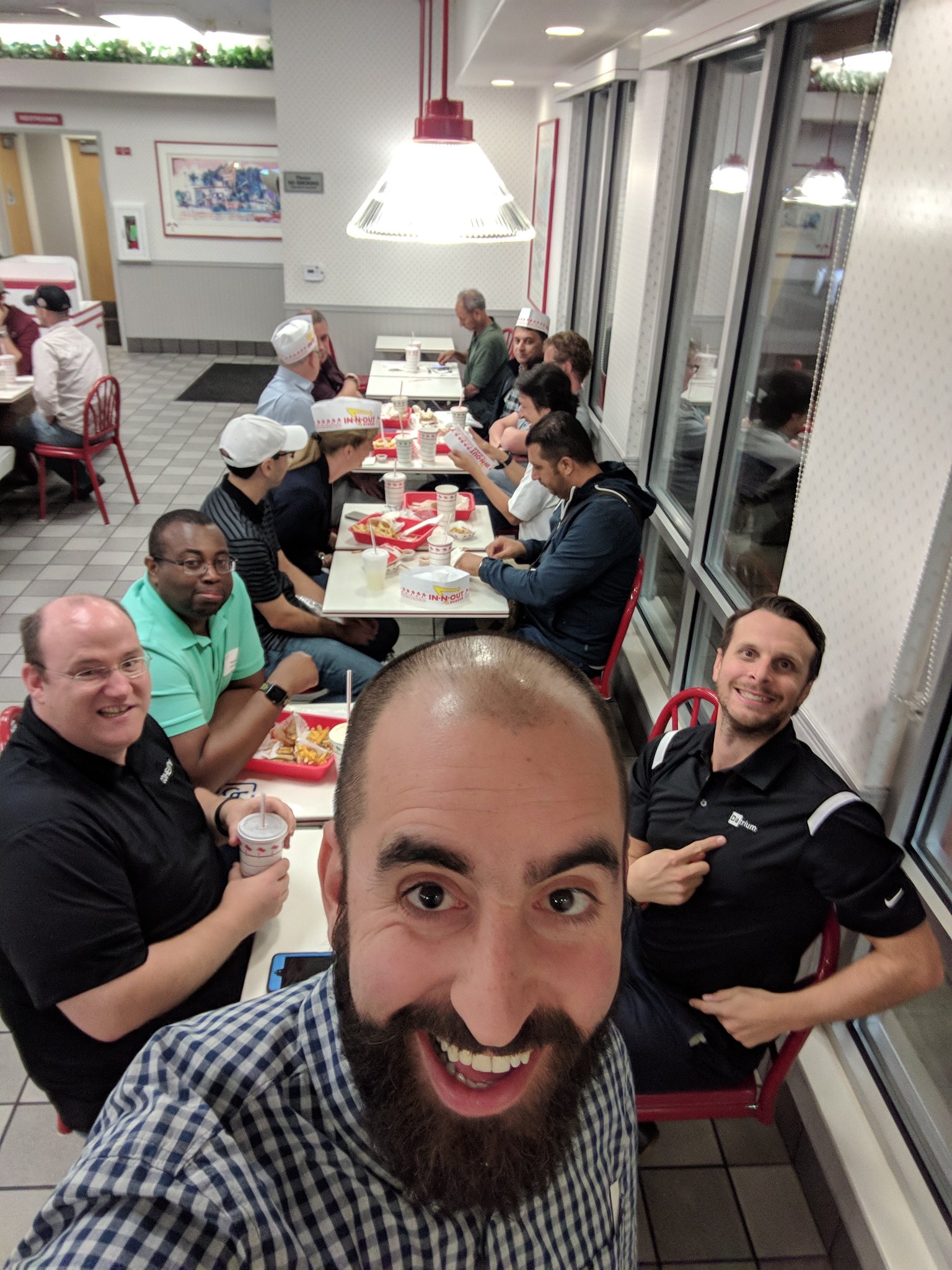 Legend has it both Raff and Liselotte are still laughing today.
Day 3 (Thursday): Off to San Francisco
We grabbed breakfast in the hotel again at about 7am because we were scheduled to leave by limo at 8am to visit San Francisco which takes anywhere from 1 to 2 hours depending on the traffic. I think we got there in a little over an hour, the traffic wasn't bad.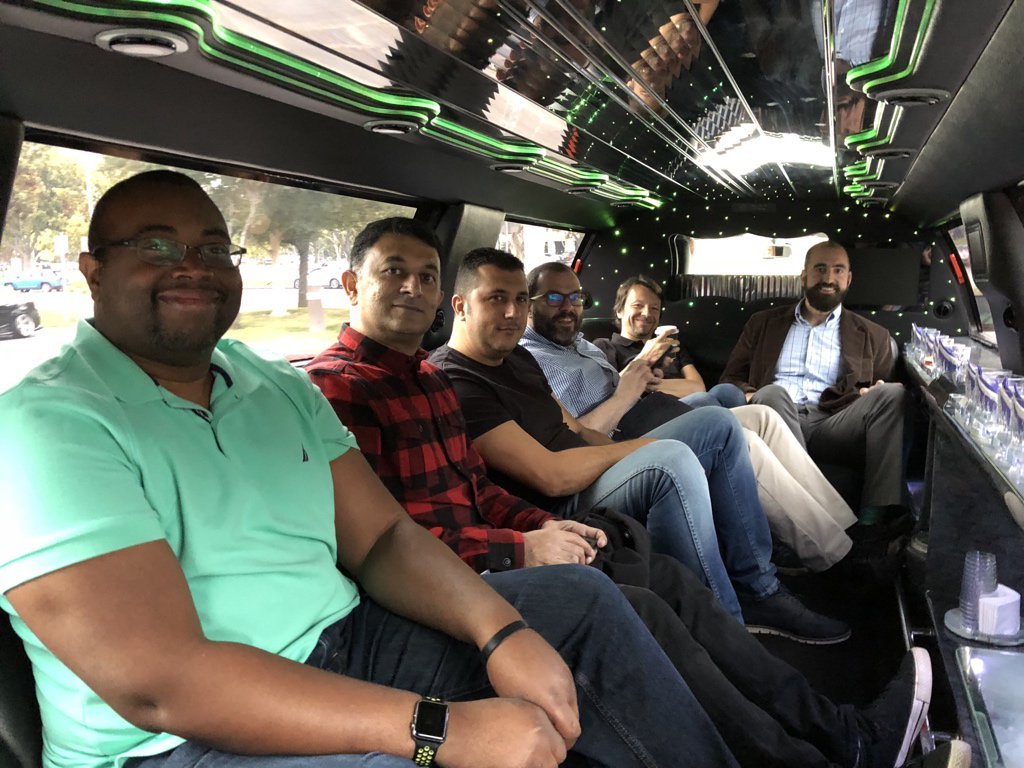 Image source: Stephen
I was really surprised once we made our way into downtown SF. I always thought all of SF was white townhouses cascaded on the mountains. There is an area of SF like that, but downtown SF is built up like a mini-Manhattan.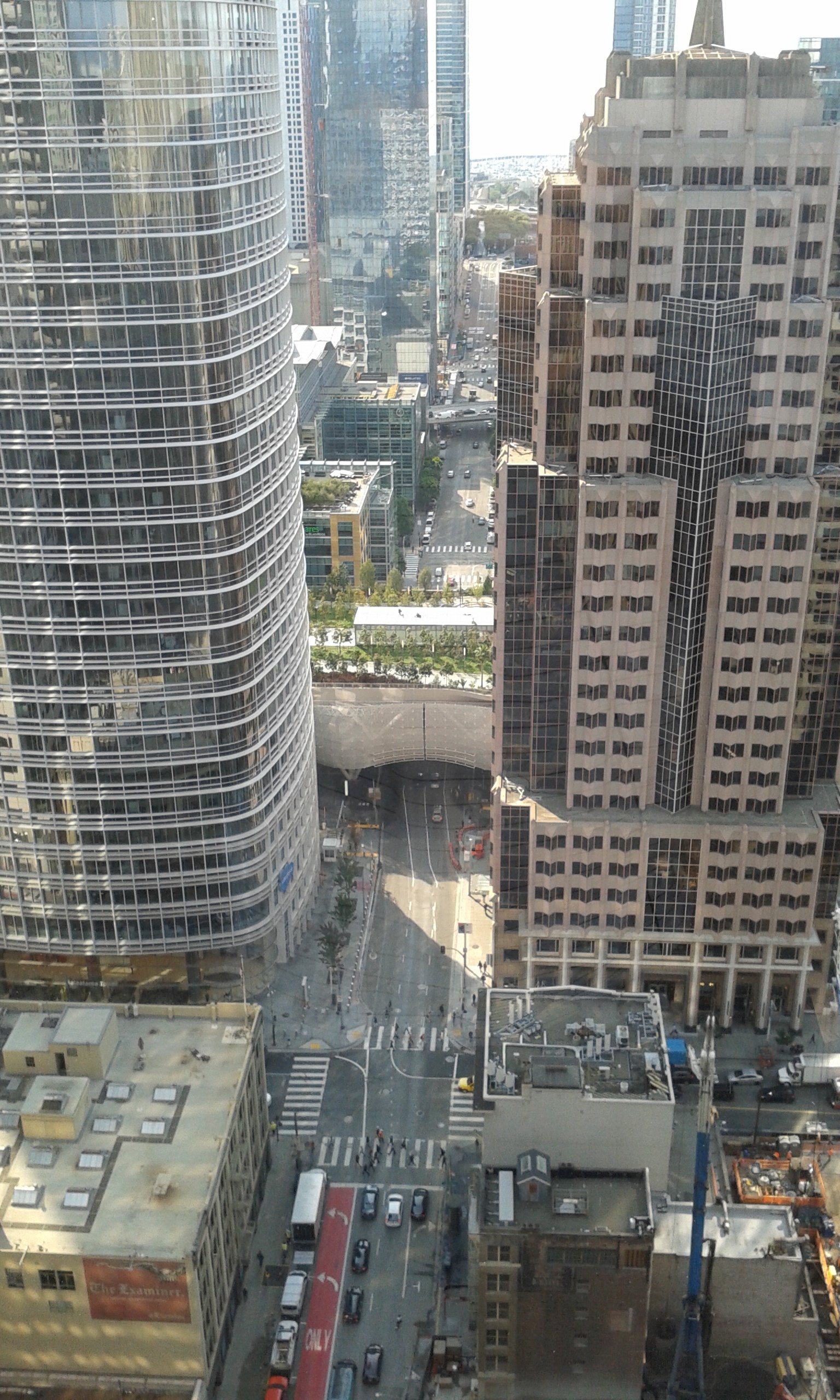 Image source: Nick
This was taken from inside of Lightstep's building from the 30th floor.
Our Only Presentation for the Day
We only had one presentation with Lightstep in the morning: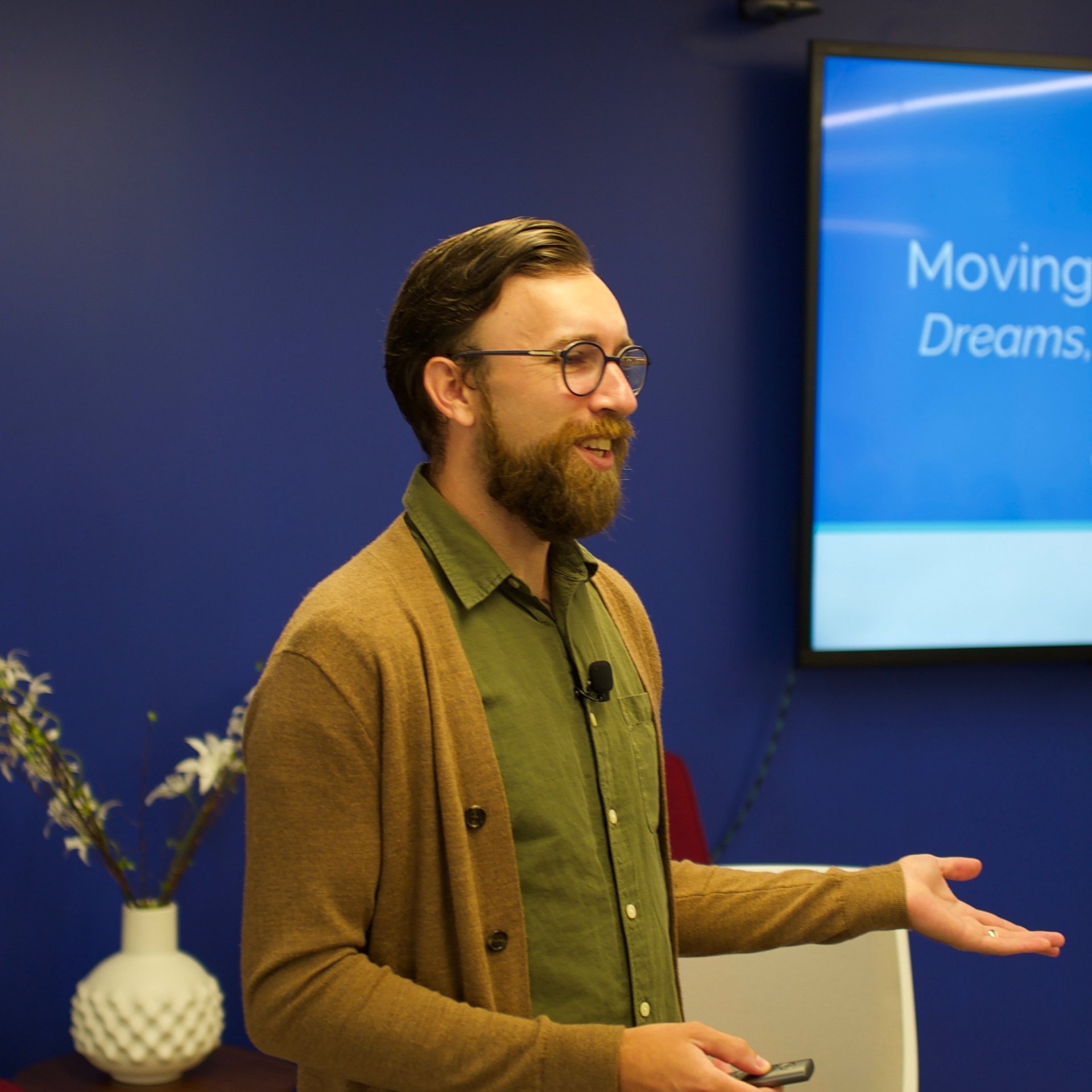 Image source: Stephen
They also treated us for lunch which was a tasty spread of healthy sandwiches and salads. I also had some drink called Kale Thompson which is a flavor of this bottled drink called Ugly Juice. I never heard of them before. Let's just say its flavor was potent.
Just One More Podcast
We were all thinking about a podcast topic and given Lightstep's presentation was on monitoring solutions for larger scale applications, we thought it would be interesting to talk about when you should consider using microservices and go Serverless.
I joked around and recommend we label it as "You're not Google" and Stephen really liked that. Eventually with some other comments, it morphed into "You're not Google, unless you're Google" and that was it.
At this point 6 of us have already been in the podcasts from yesterday and I've never done one. I didn't request to be in this one but Stephen pointed at me.
I was hesitant at first because being in this position is much different than a delegate. As a delegate I'm not the focus of attention. I am trying to engage as much as I can, but ultimately the "primary pressure" is on the presenter.
Being on this podcast is much different. I would be sitting with 2 or 3 other people to discuss a common topic for 20 minutes. All cameras are on us and we're in a room full of people watching. Not only that but I would have to talk about topics in a fully unprepared and unscripted manner (my biggest weakness).
That's super duper out of my comfort zone but you know, we're all on the same team. The other delegates egged me on into doing it, but in a supportive way. I remember Nate threw out a "do it Nick, this is right up your ally" and that pushed me over the edge to do it.
Joep, Ben, Nick and Ather talking about microservices: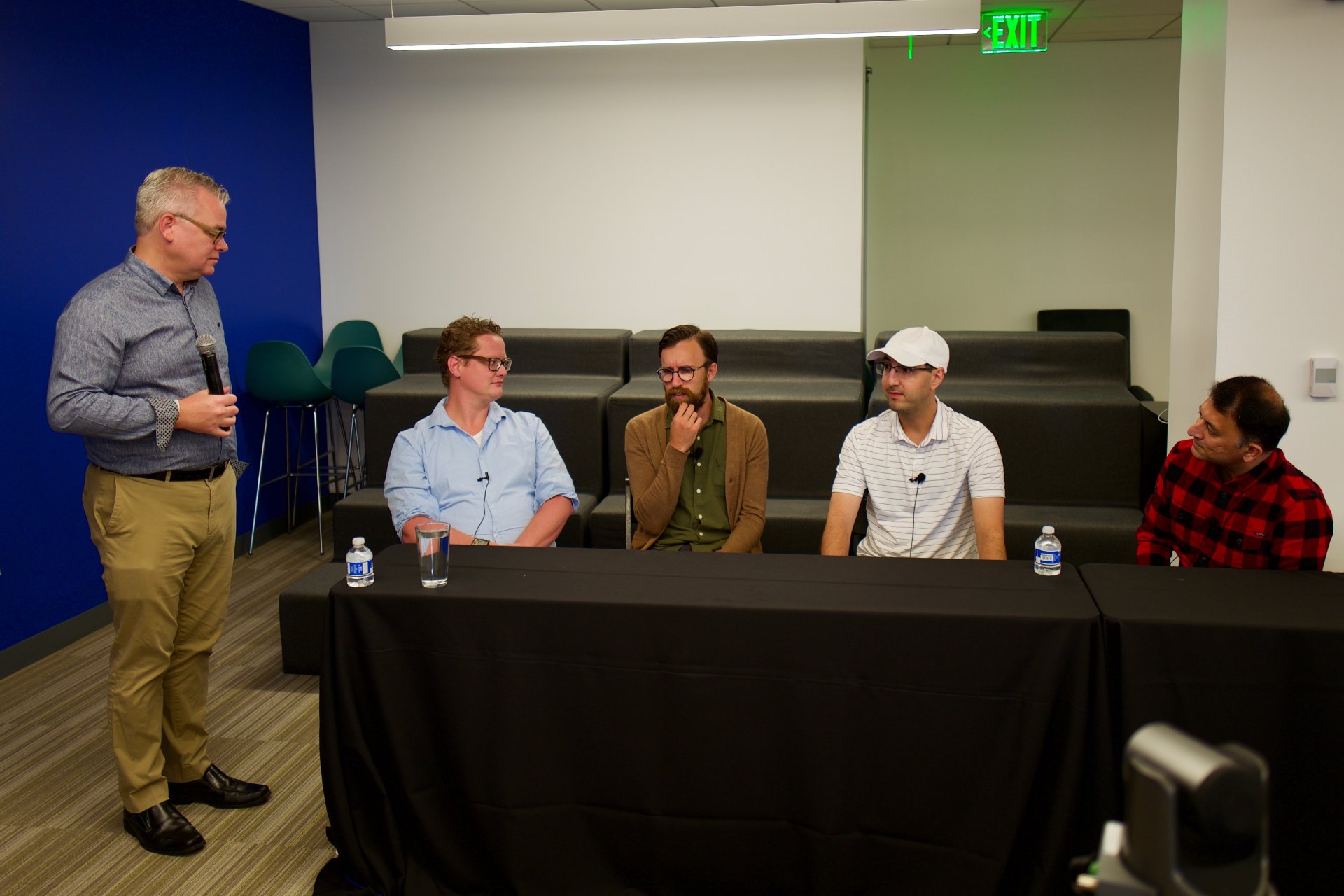 Image source: Tom
Ben Sigelman wasn't a delegate. He is the CEO and co-founder of Lightstep.
He was really passionate about this topic so he jumped in. I'm glad he did because he and I share a lot of the same opinions on this matter.
I won't go into the details of the podcast, but I'll link to it here once it's available. It might not be until September or October 2018 since they tend to record a couple of episodes in advance.
I'm really thankful everyone supported me in doing this. I feel like it was another turning point in my life that leveled me up as a person.
Pitstop at Philz Coffee
Philz Coffee is a famous coffee place in San Francisco so Stephen recommended we check it out. It's funny because there's a Starbucks across the street and another local place but everyone seems to goto Philz.
You can't tell from this picture but there was a massive line outside of the building.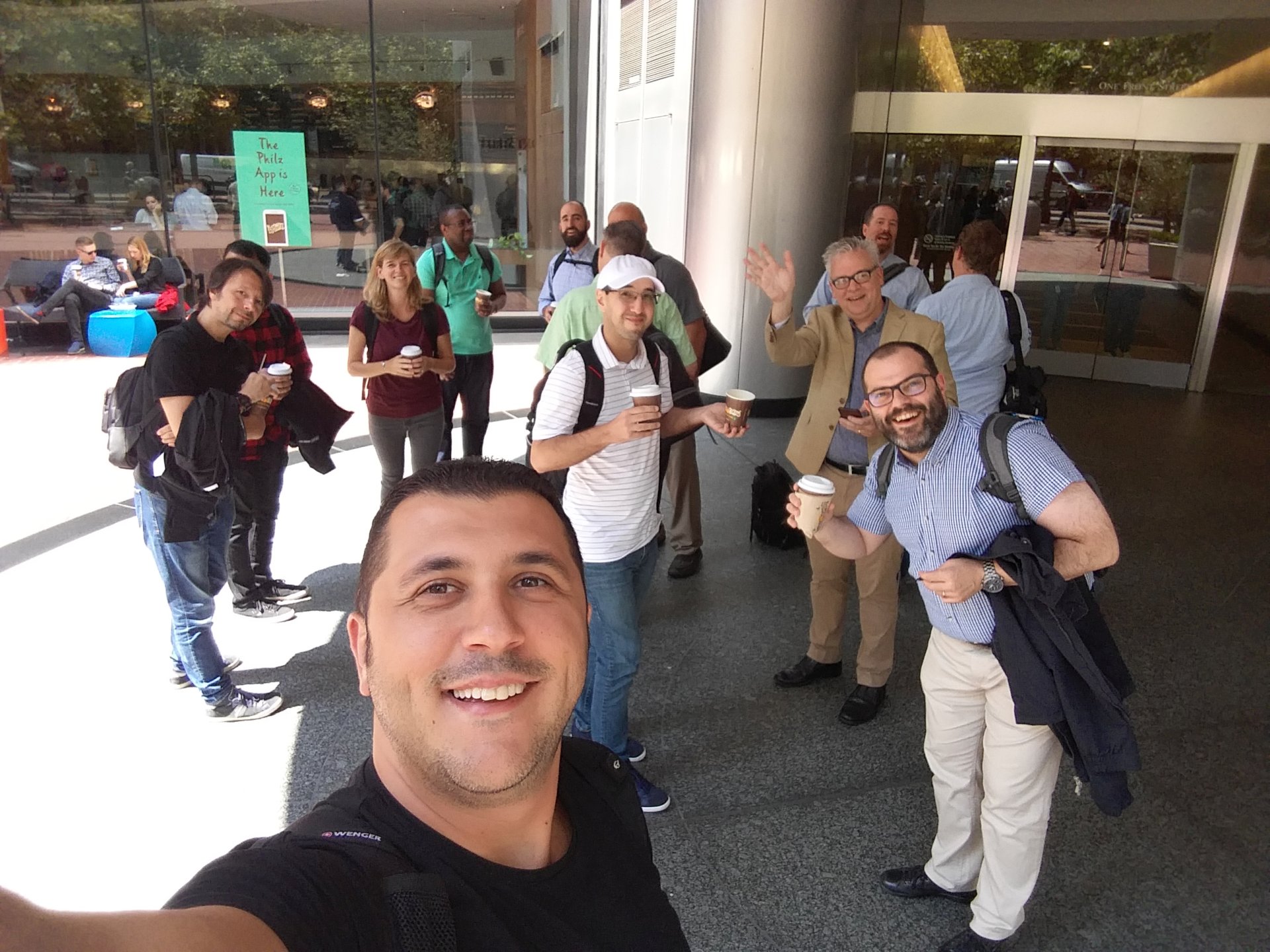 Image source: Dugi
Dugi is an expert at taking group selfies.
I ordered an unsweetened Philz Iced Tea since I don't drink coffee. It was really refreshing. Some of the gang ordered ice coffee too. I was holding Stephen's drink so he could wave.
While we were all standing around in the glorious SF weather I learned that Greg has been playing golf for 30 years. He was wearing a Callaway shirt (you can't see it in the above pic). He even mentioned he made a 200y driving range on his 5 acre property. Nice!
Let's See the Golden Gate Bridge
With our drinks in hand, we took a trip across downtown SF to the Golden Gate Bridge: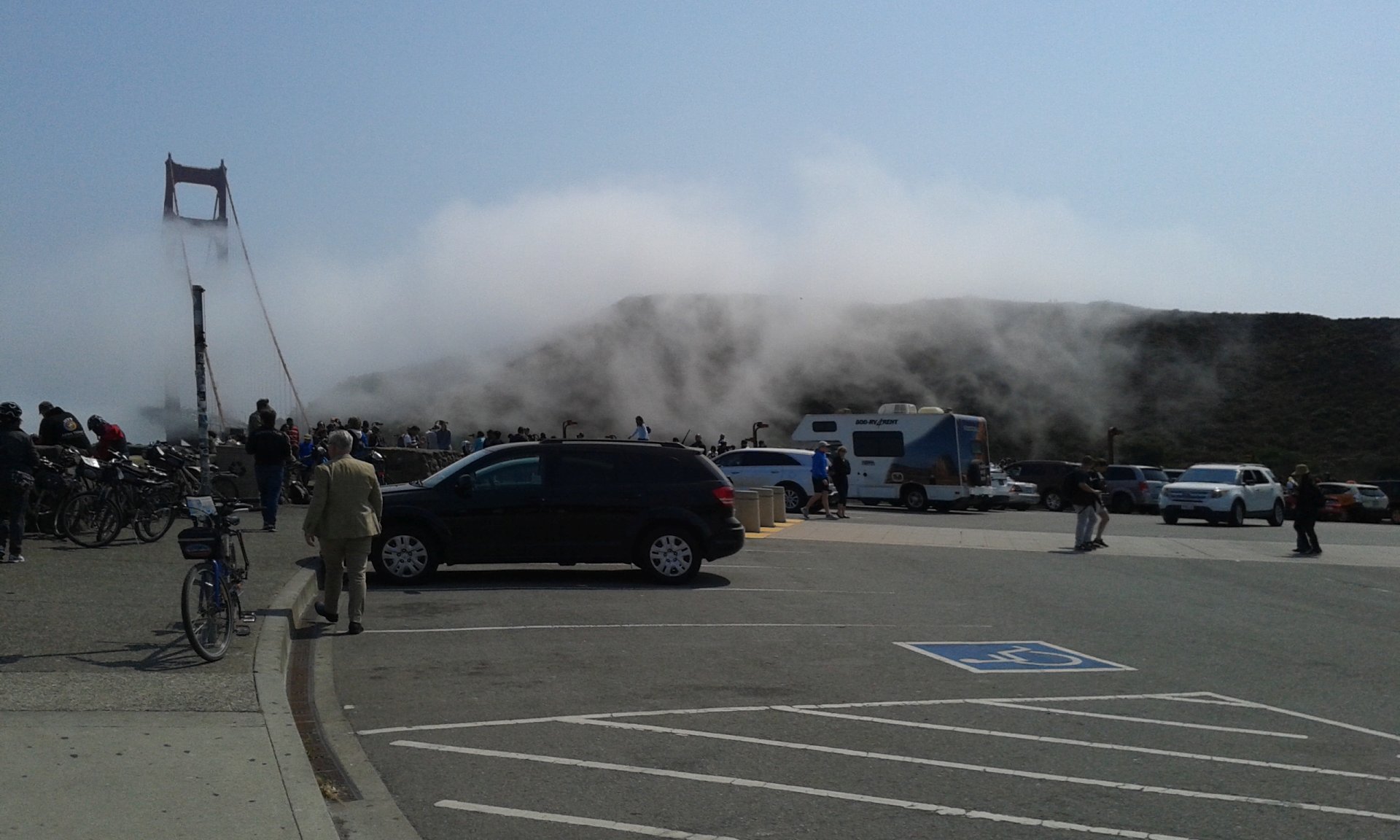 Image source: Nick
We were greeted by Karl the Fog. The fog is so frequent and dense that it has a name. It probably has more Twitter followers than you too haha.
As we got out of the limo we were all joking around that if you were going to get attacked by a monster or superhero movie villain, this is the spot for it to happen.
Stephen was exploring ahead to make sure Godzilla wasn't masked by Karl's presence.
On that topic, as a CFD delegate you will need to sign a waiver that protects Stephen and his company from being sued in the off chance you die. I wonder if it needs to be amended to include a "kidnapped by super villain" clause.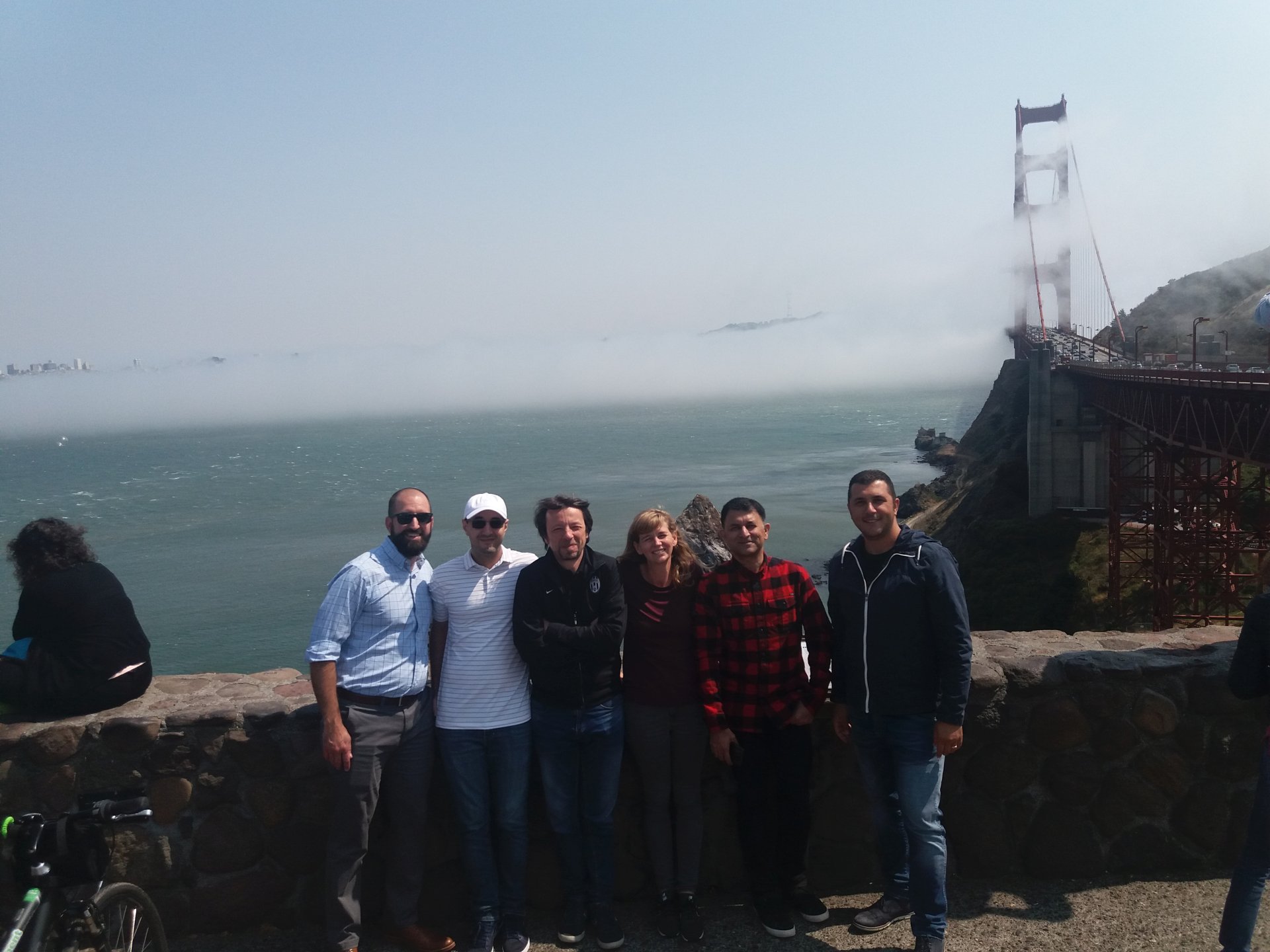 Image source: Some girl standing on a rock fence with Dugi's camera
Do you see that rock fence behind us? There's another one across from us where we're facing and some girl was nice enough to take this photo for us.
Raff looks pretty cold. The temperature in SF is crazy. It was probably around 65f / 18c in the morning, 80f / 26c in the afternoon and back to 65f / 18c at night, but then just 1 hour south in San Jose it was back to 80f / 26c even at night time.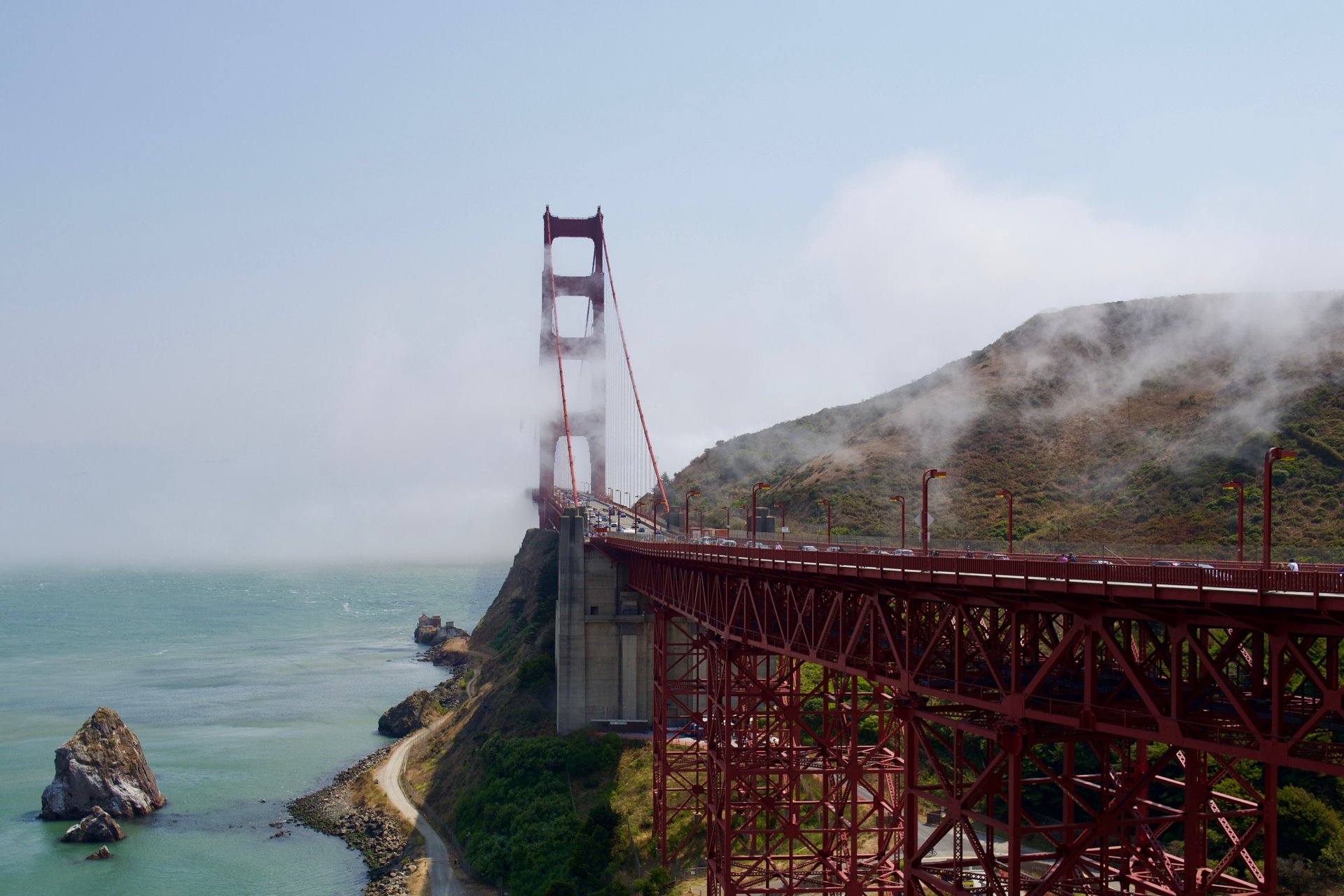 Image source: Stephen
I wanted to include this picture of just the bridge, plus it's a nice demonstration of Stephen's Leica camera. Look at the details in the lower half of the bridge!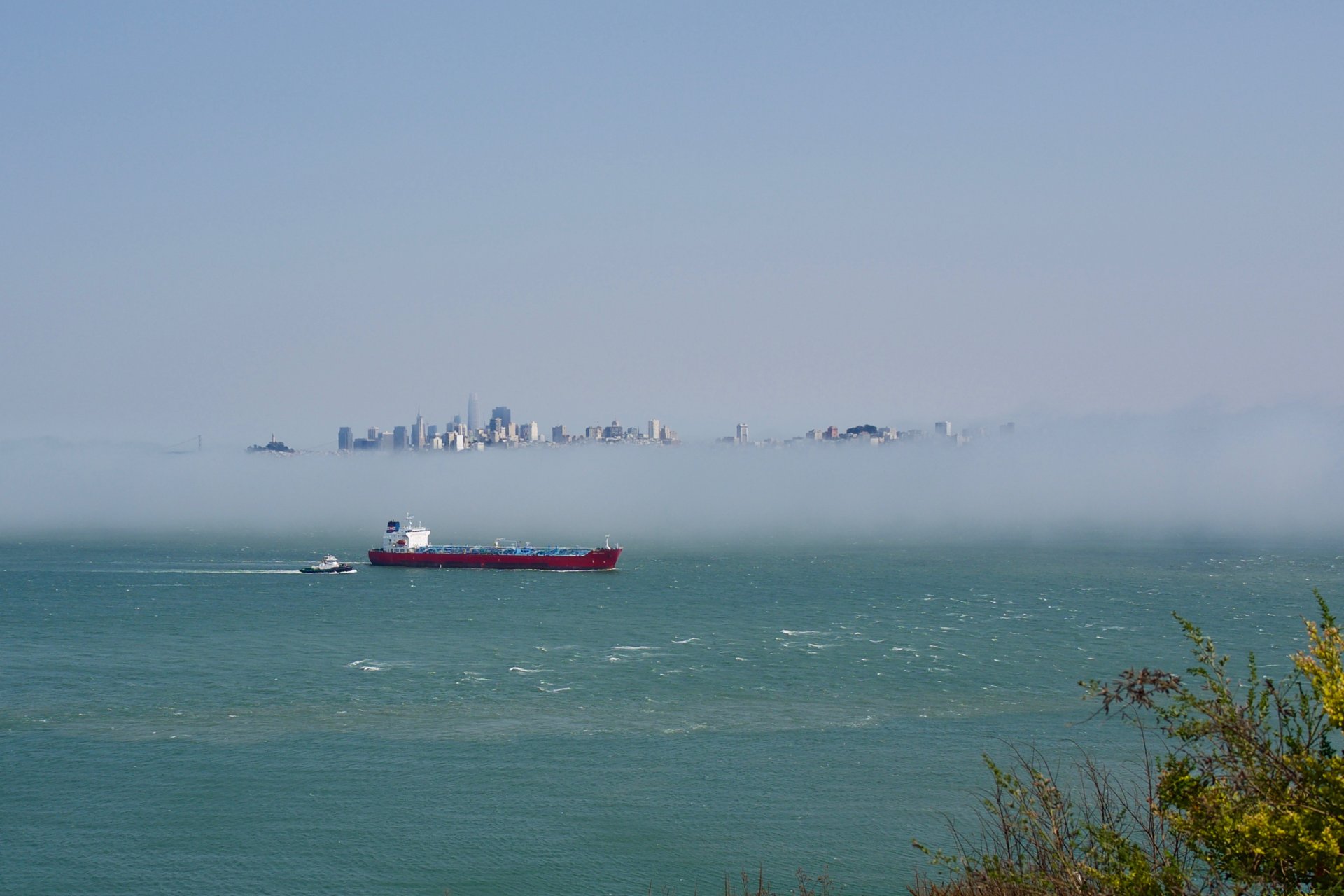 Image source: Stephen
It almost looks like downtown SF is floating on air.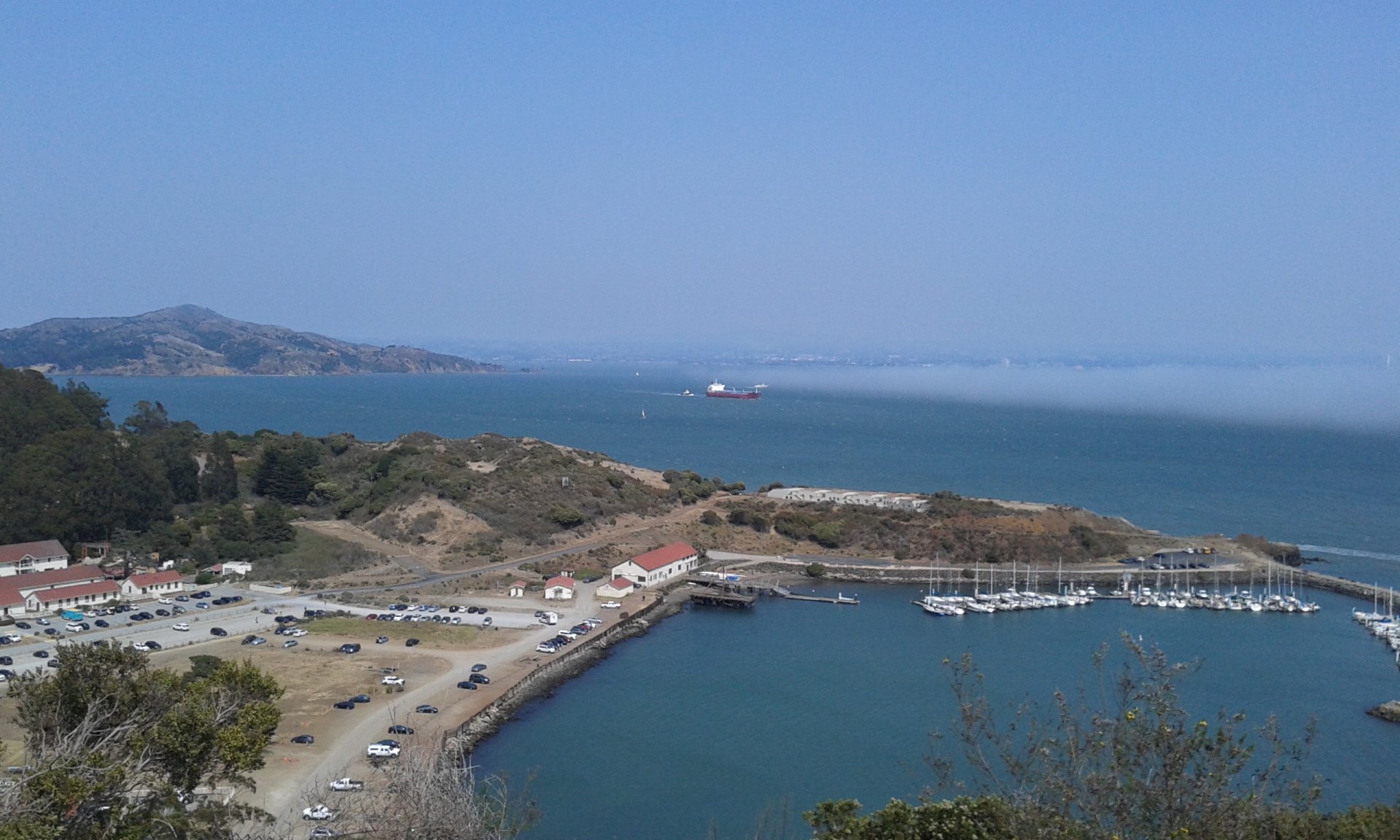 Image source: Nick
The bay has a lot of fantastic scenery to look at. On the left side of this picture is a hotel that you can stay at. Waking up to that view would be really something!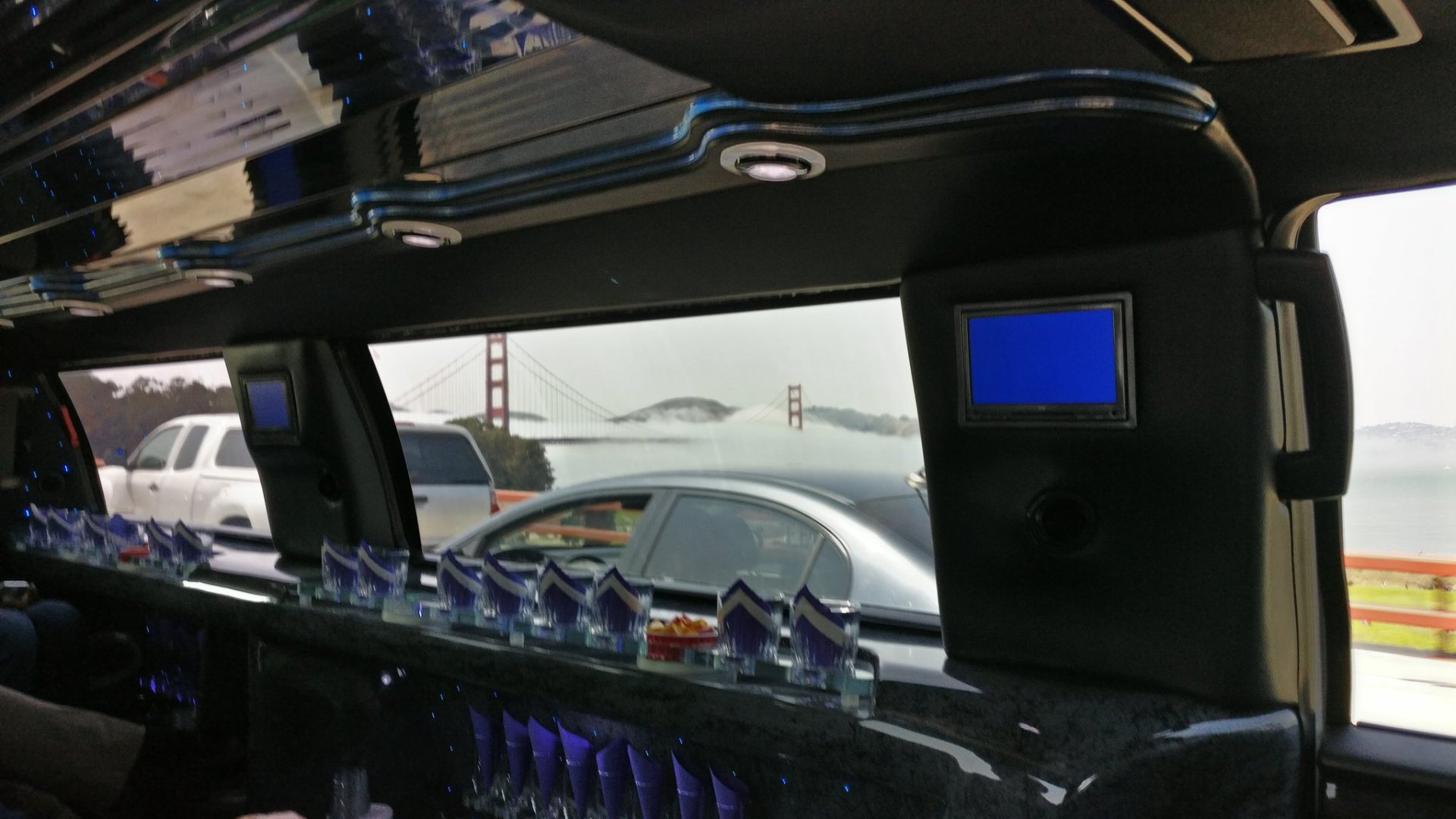 Image source: Pietro
Driving over the bridge was interesting because Karl overtakes everything. It's like we're driving through clouds for Cloud Field Day. Ba Dum Tss!
Docker Headquarters
After we got back to downtown SF we stopped by Docker's place to say hello. This wasn't for any type of presentation, just a tour of their office.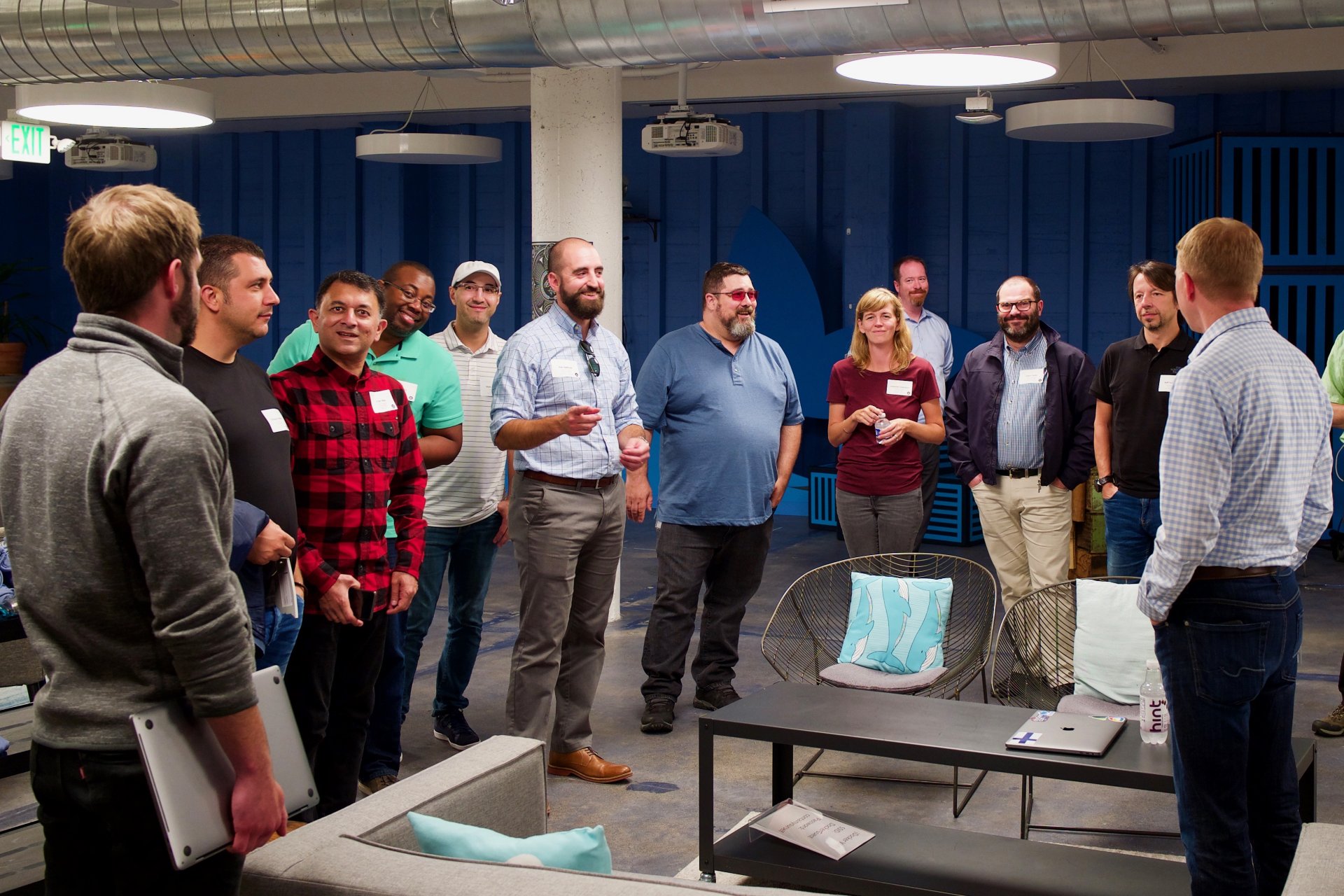 Image source: Stephen
They had a really cool office space. It was built inside of a warehouse and it felt high tech but at the same time it had a low tech feel to it. It definitely captures the "Docker" brand very well. I wonder how much time they spent designing that place.
The guy in the middle with the red shades is Mano Marks. He's an employee at Docker. We've talked a lot on Slack but I never met him in person because despite being a Docker Captain I have never made my way to DockerCon.
It was nice to finally meet some people at Docker. Thanks for setting this up Stephen!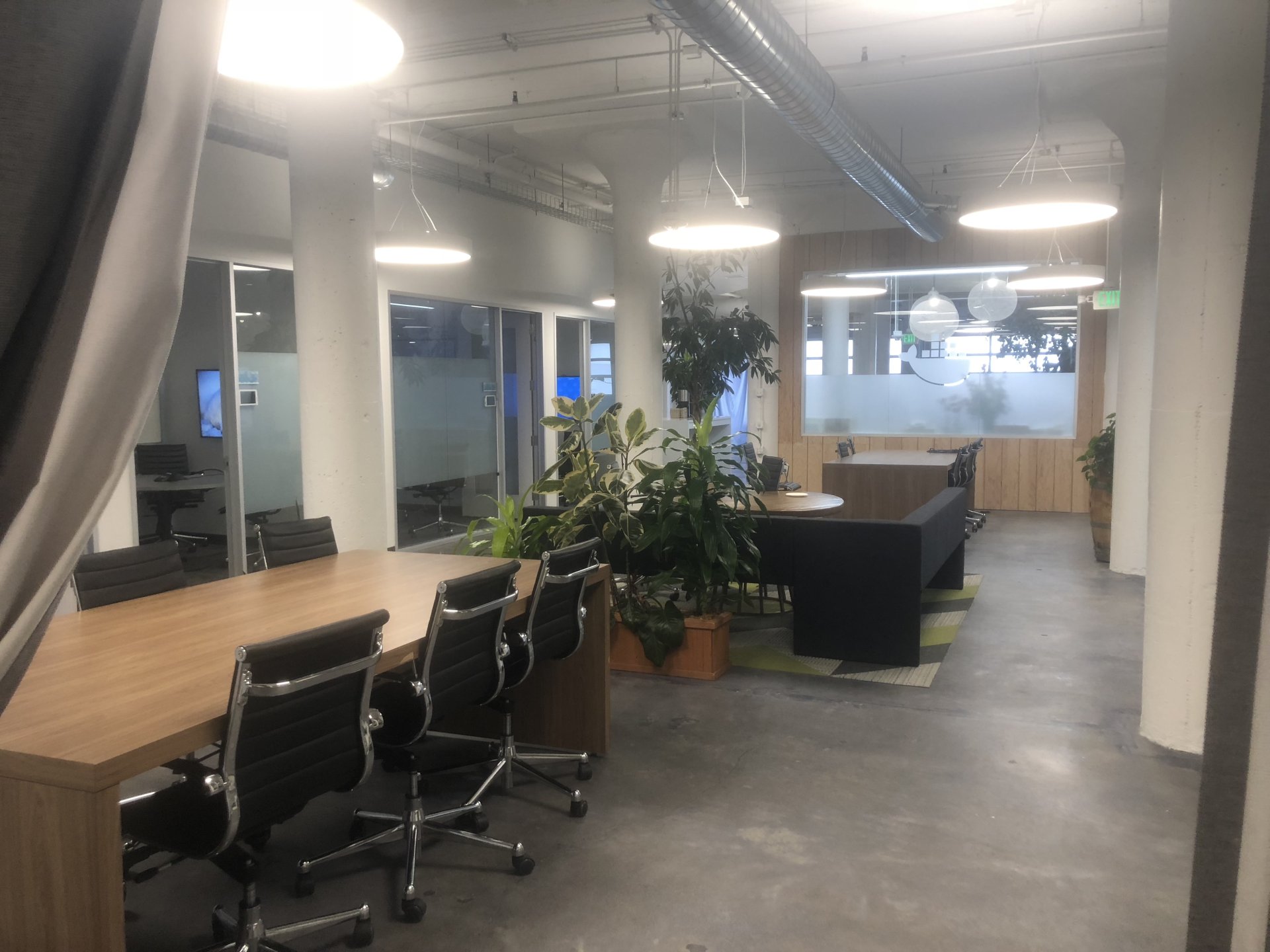 Image source: Nate
This was just beyond the lobby of the main floor. There's a lot of private recording and work rooms with a hidden surprise at the end of the hall.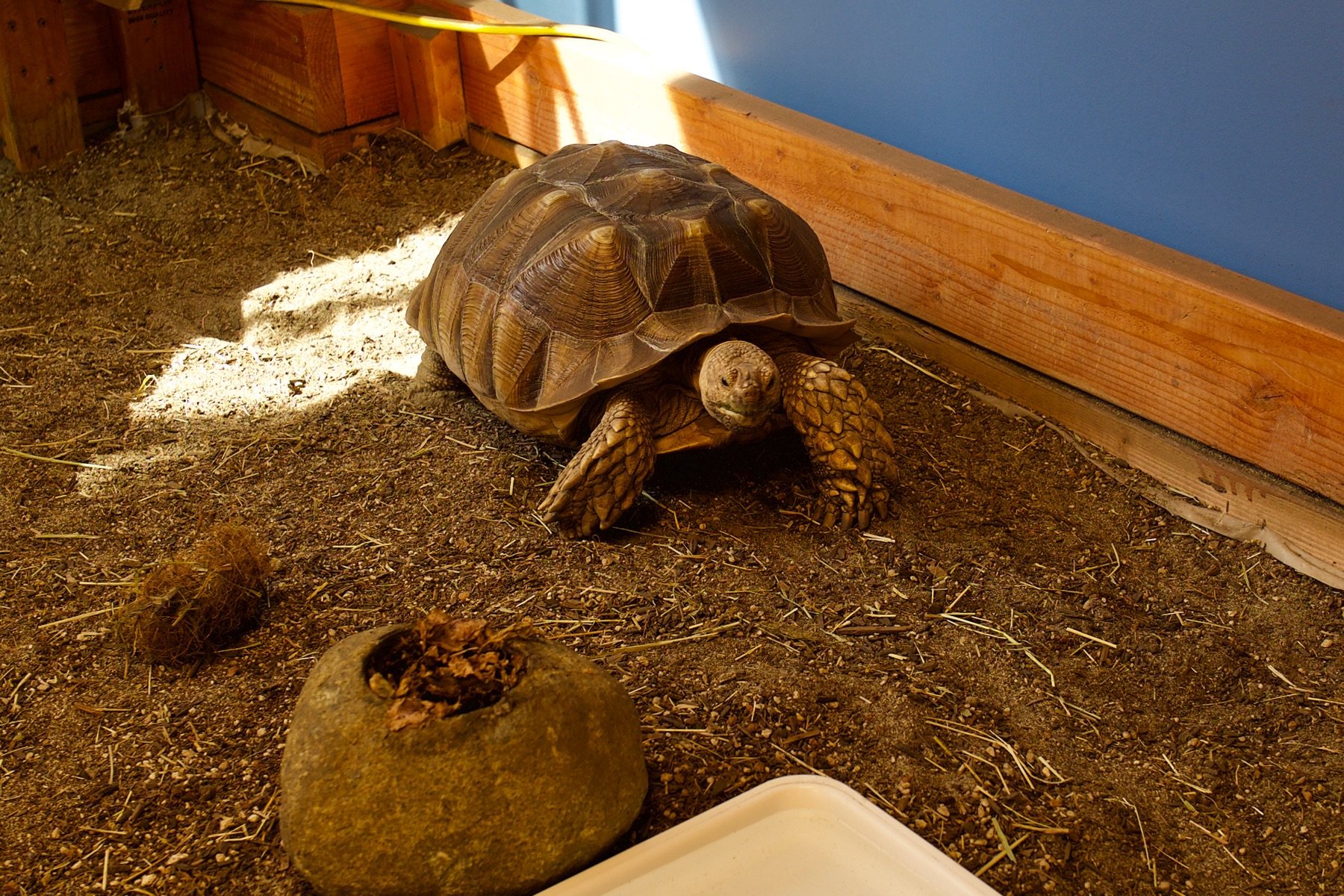 Image source: Stephen
That's Gordon the Turtle and he has quite a large enclosure all to himself. He also likes to gallivant around the office while vacuuming up salad.
Thanks for the tour Mano!
Startup Escape Room
This was a real unexpected surprise. We knew we were going to do the Startup Escape Room before we went to SF but it ended up being way more difficult than I expected.
I don't want to write about it in too much detail due to spoilers but the idea is you have a startup with $1,000,000 and you have 1 hour to escape the room. After 1 hour, you run out of funds and it's game over.
They picked a pretty funny startup name for us. It definitely got a chuckle from the group.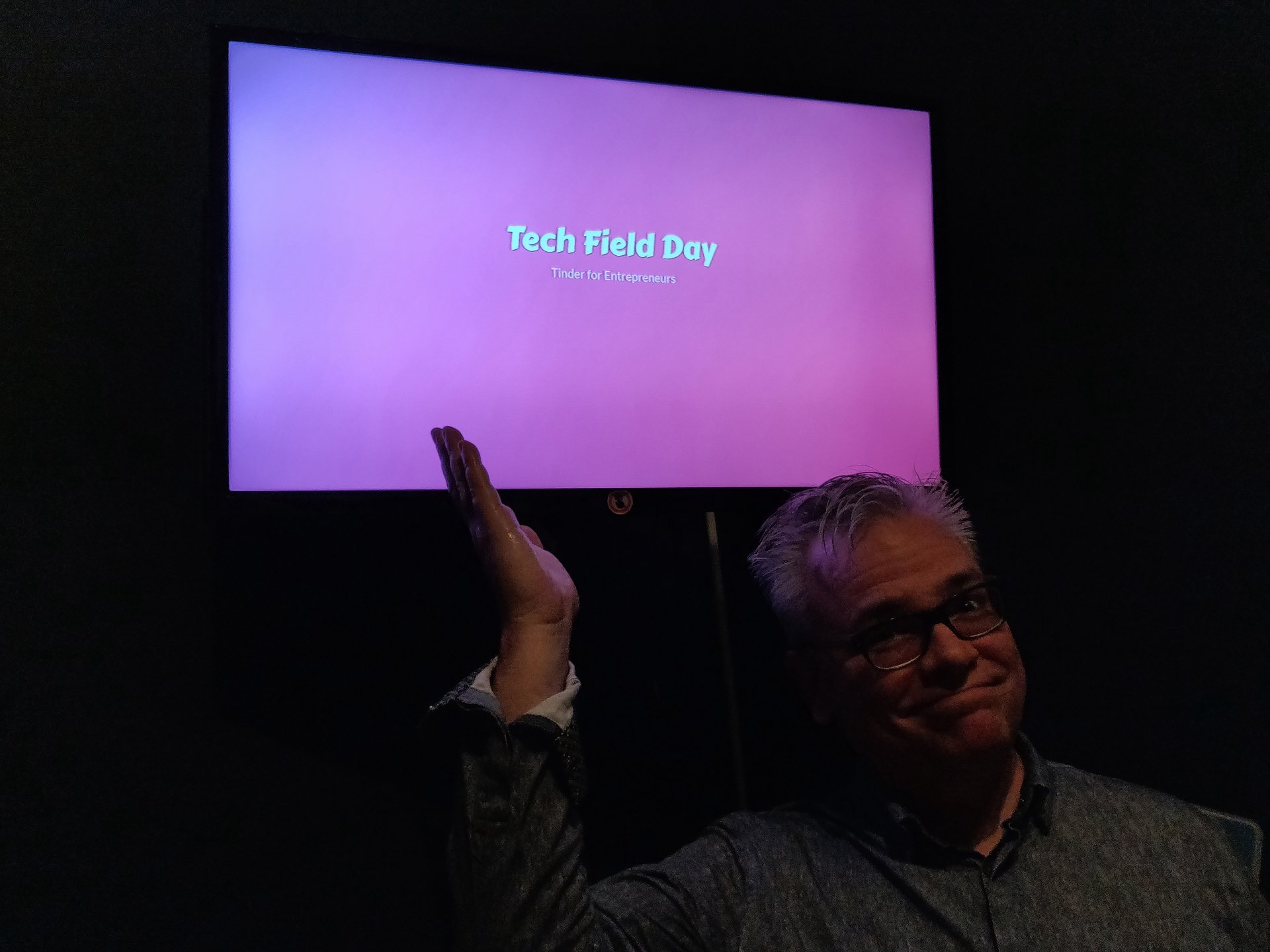 Image source: Ather
We managed to finish it with about 1 minute to spare, although technically we cheated because they gave us a bit of extra time near the end (without us asking).
We were stuck on some aspects of it for a long time, but eventually it all clicked. You get 1 hour to escape and it felt like we were stuck for about 50 minutes but then did nearly everything in the last 10 minutes.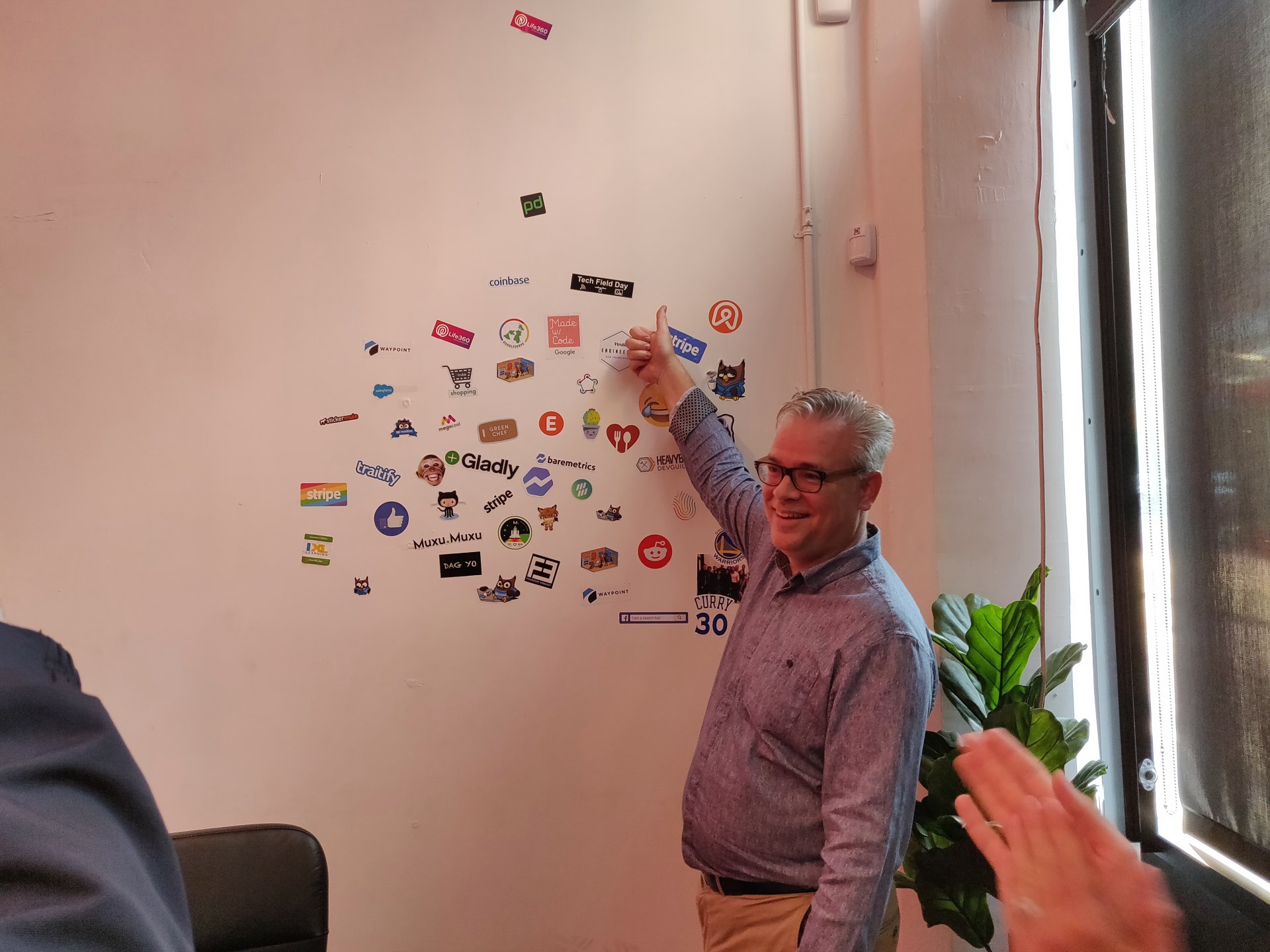 Image source: Ather
If you manage to escape you get to put a sticker on their lobby wall.
I'm just going to end it with… there were aspects of the room that I don't think I could have solved even with an infinite amount of time. It's a good thing we worked well as a team!
Dinner at Jasper's Corner Tap and Kitchen
I don't think anyone took pictures of this place. It was a pretty cool restaurant and bar in SF. I ended up getting some type of turkey and melted swiss cheese club sandwich.
It was a good opportunity to talk about the escape room and the SF adventure so far. The bathroom there even had a combination lock so it felt like a mini escape room.
We also talked about movies. Specifically Biff from Back to the Future (ahem Keith).
We ended up getting back to the hotel around 10pm and most of us went to our rooms.
Day 4 (Friday): Wrapping up the Presentations
Today was our earliest day. We had to leave the hotel at 7am and the plan was to eat breakfast at Cohesity. They had a nice spread of egg sandwiches and vegetarian alternatives. Thanks for that!
The First Presentation of the Day
Here's a group shot that included us along with some of the Cohesity presenters and staff: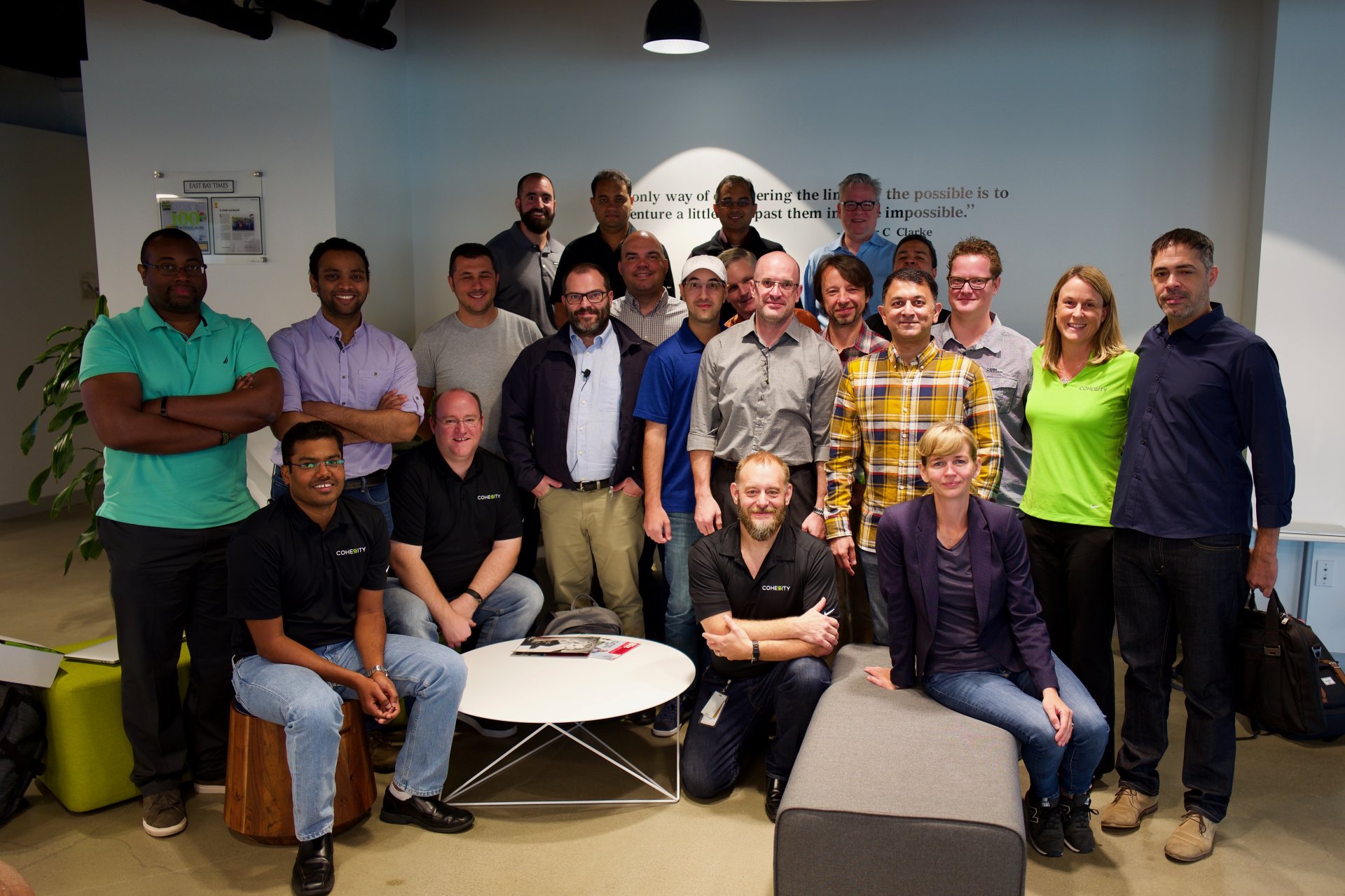 Image source: Tom
It's always interesting to see how different every company's offices were. All of them were really well designed in their own unique ways.
The Last Presentation of Cloud Field Day 4
We wrapped things up by visiting Veritas' headquarters. Veritas is serious business. To get beyond their lobby you need to provide a photo ID. Their building was massive too.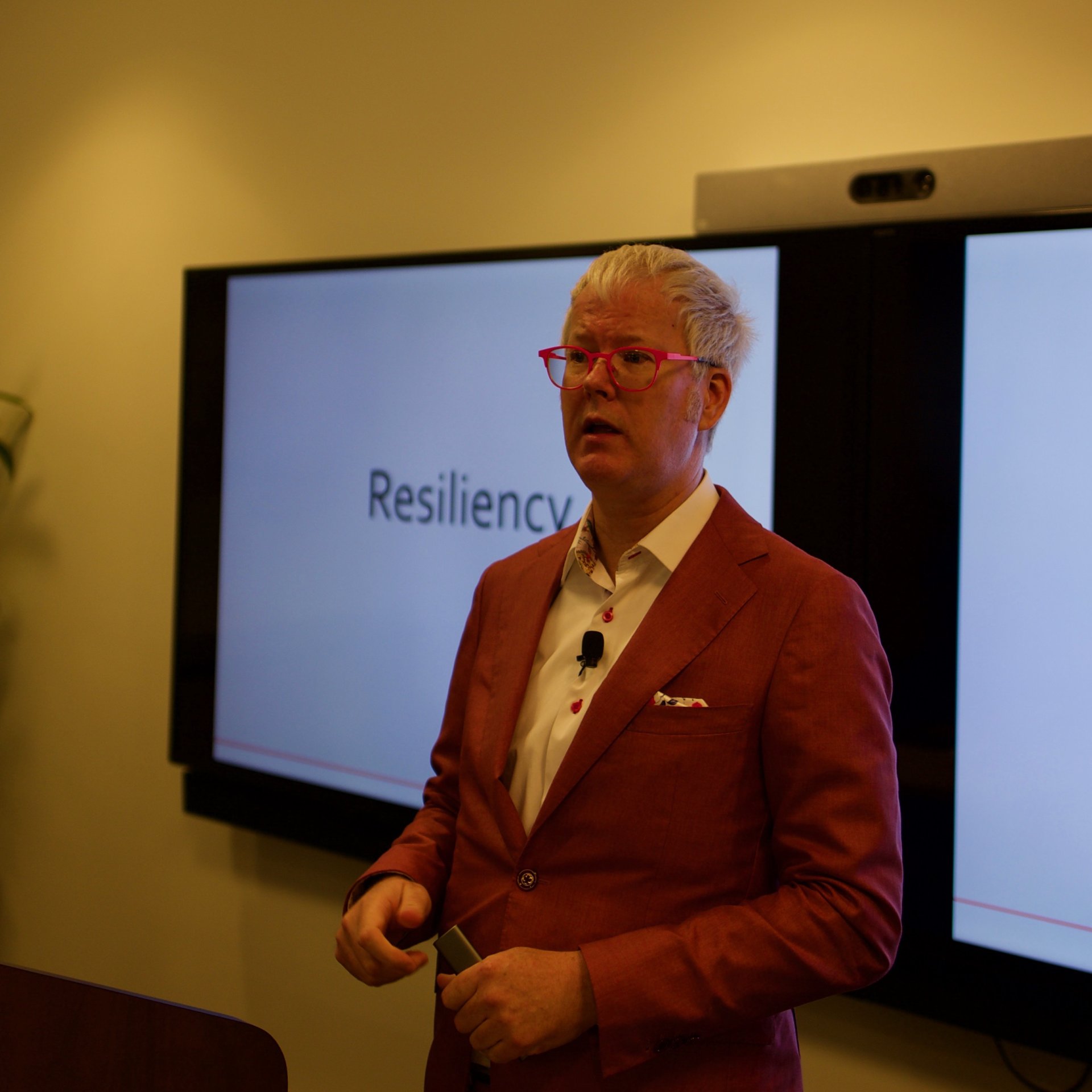 Image source: Stephen
After Clifford Barcliff gave the presentation they were kind enough to treat us for lunch too. I went for a piece of lemon chicken and salmon. Kudos to their chef!
Apple Picking
Not quite, but apples were involved. We went straight from Veritas to Apple Park: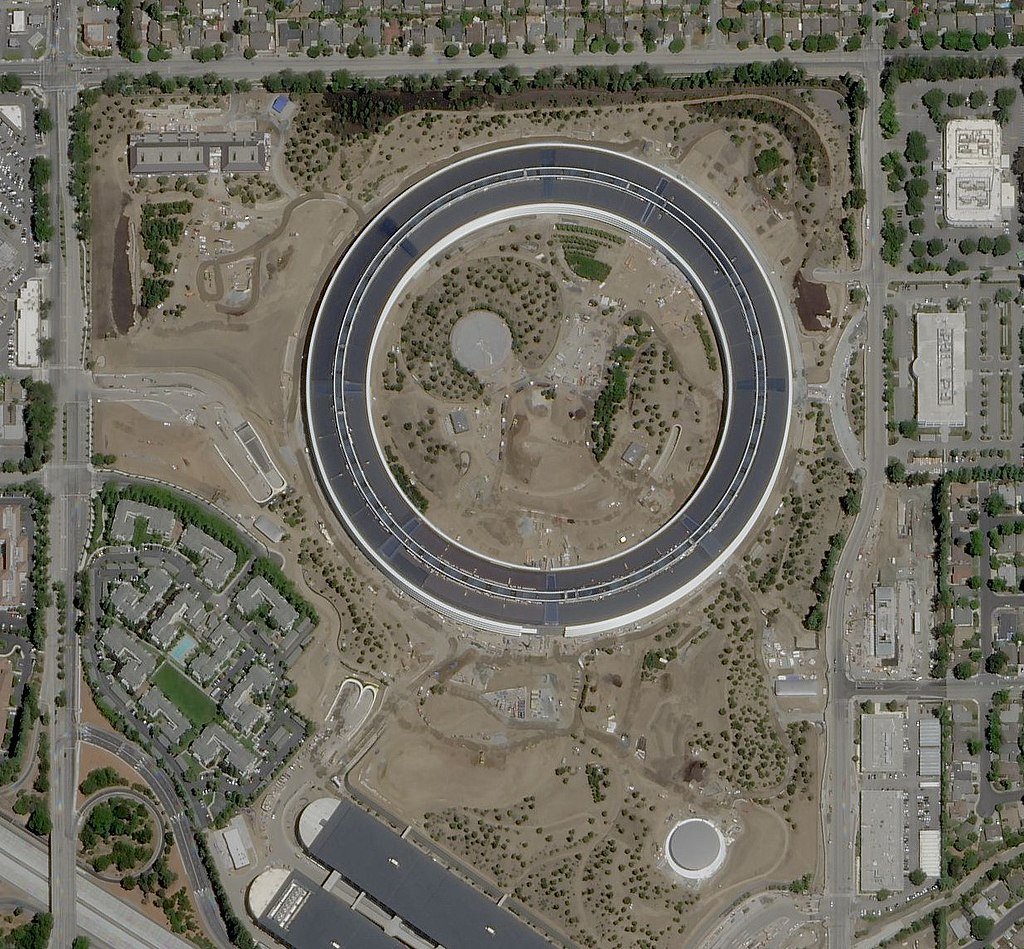 Image source: Wikipedia
The whole area is 175 acres (71 hectares) and the ringed building has over 12,000 employees which alone is 2,800,000 square feet (260k square meters). Measuring a circle in square feet must make Apple cringe a little inside.
We pretty much hung around the main visitor center: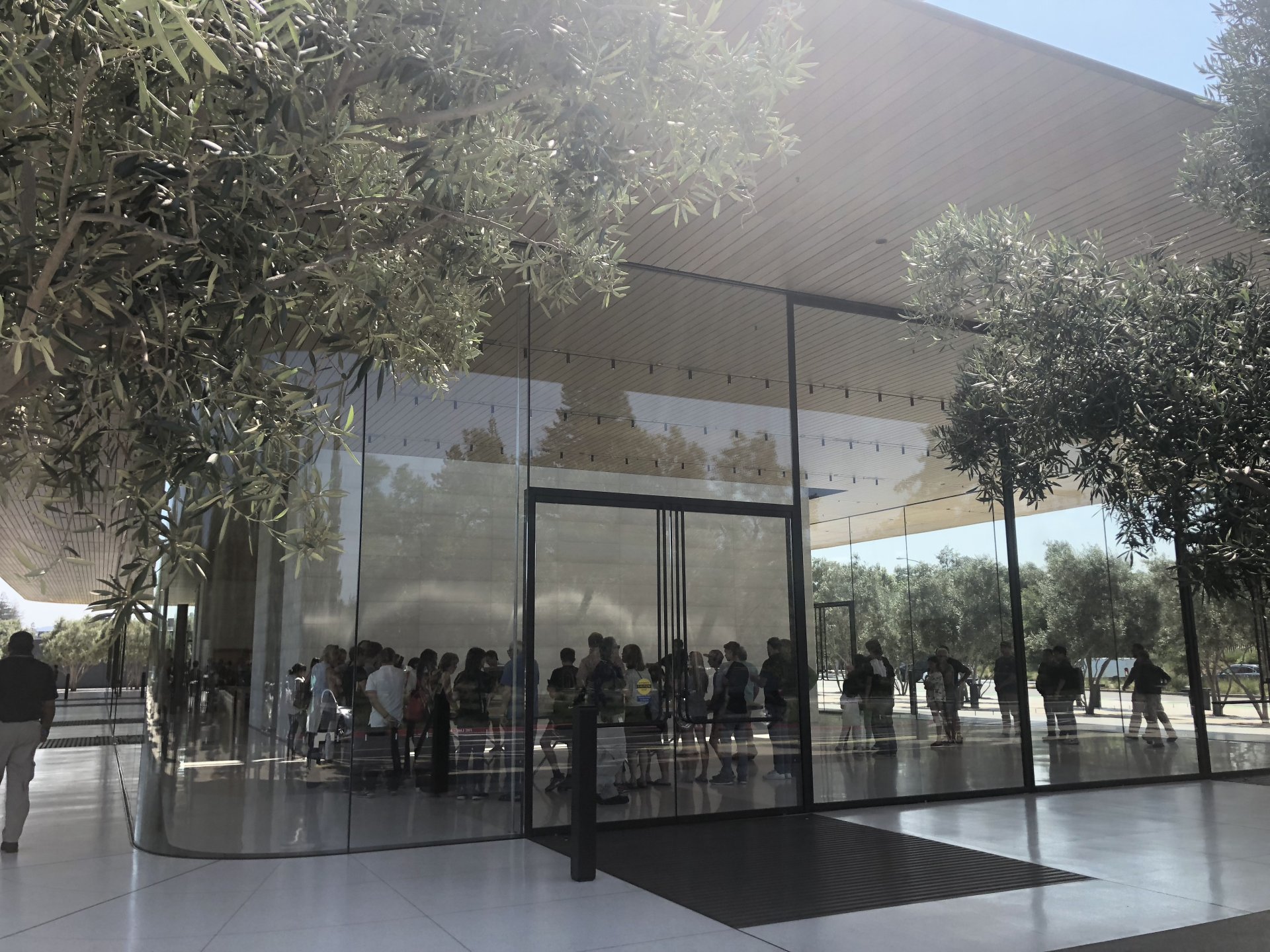 Image source: Nate
The workmanship and scale of this place was unmatched. Every last detail is there, such as rounded corners being used almost everywhere.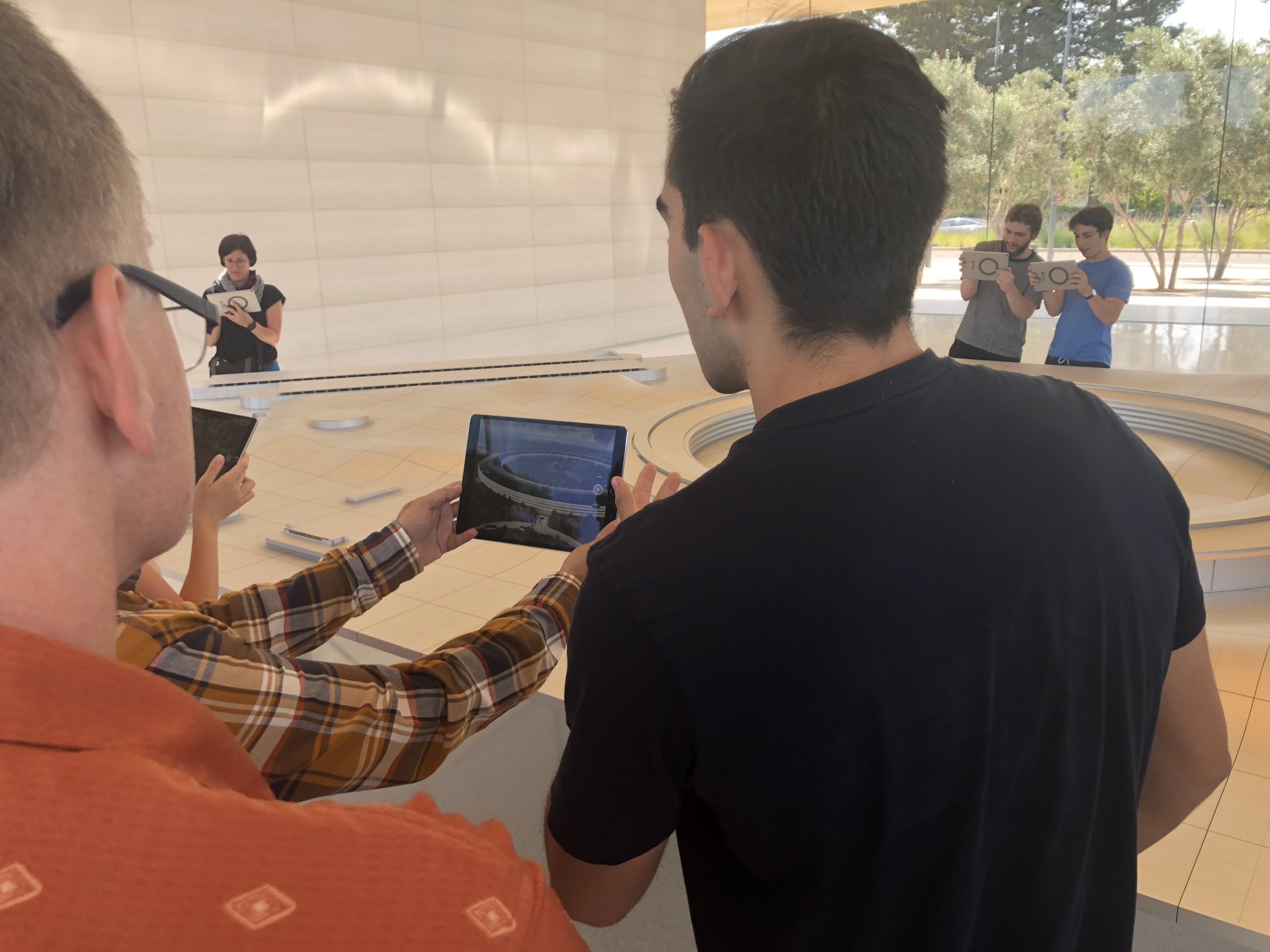 Image source: Nate
There is even an augmented reality exhibition. You point an iPad at the wooden blueprint and it renders a life-like rendition of the park. You can also see things like airflow and how the main building is cooled. Very cool!
You can even buy exclusive merchandise from this place that doesn't exist in any other store. A few of us bought a couple of items. I remember Nate picked up a shirt and hat.
Special thanks to Ramone (limo driver) for driving us. It was unplanned for him to take us all there. On the bright side, he also got a chance to join us in exploring the compound.
Departures
A few delegates had to leave for the airport so we made our way back to the hotel for now. I remember Liselotte had to make it to the airport by 4pm to fly all the way back to Denmark.
She wasn't the only international delegate with long flights. Dugi ended up having the longest flight which was ~16 hours to get back to Kosovo but he was leaving Saturday.
International Adventures
A few international delegates wanted to check out Target (yeah, that Target). As someone who lives in the US, that kind of confused me, but I'm not here to judge anyone.
Most of us stayed back at the hotel to catch up on a few things before we had our final dinner, but the international delegates went out with Stephen in the van.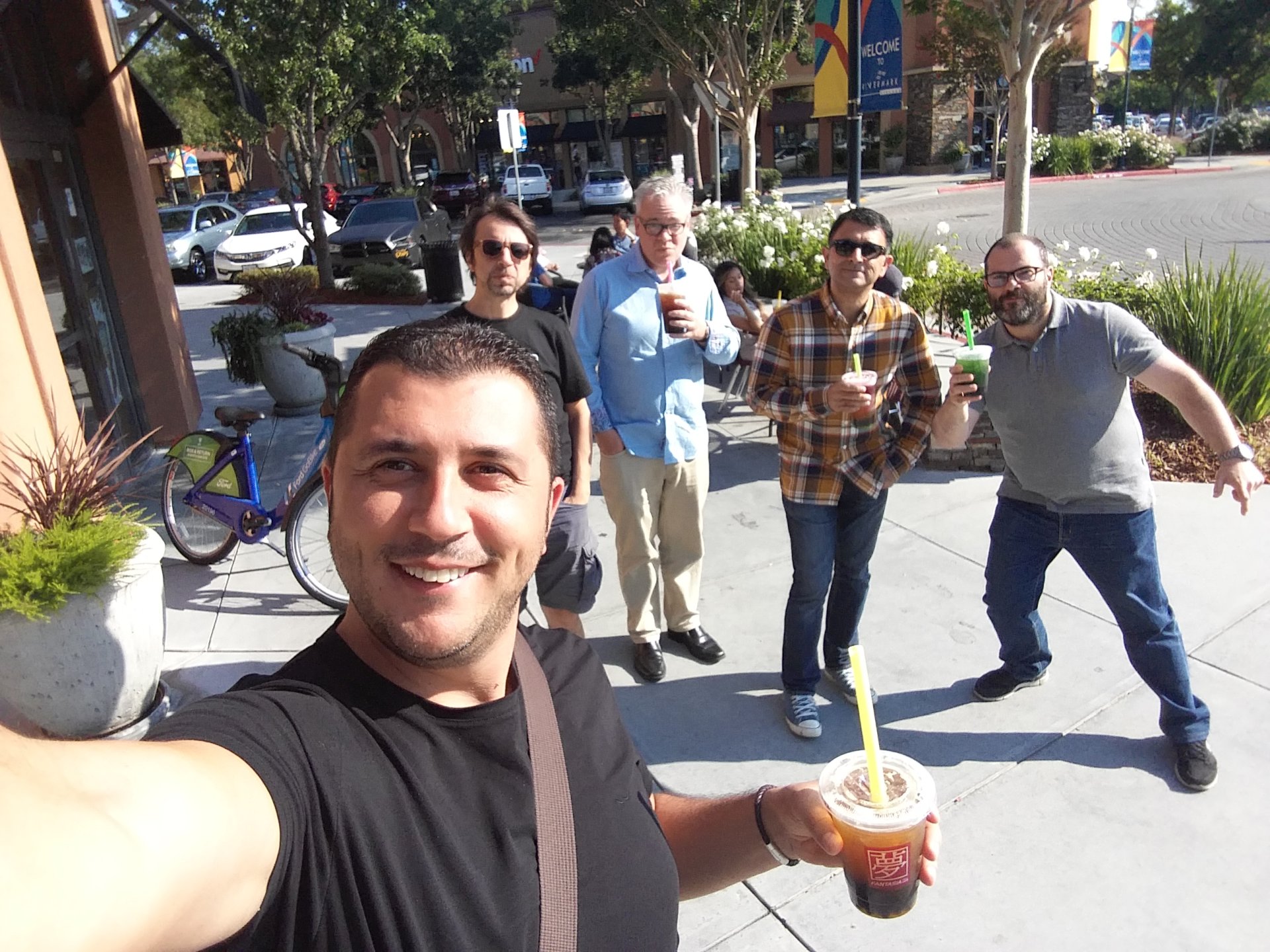 Image source: Dugi
They stopped for Boba Bubble Tea and it looks like it unlocked Pietro's super hero stance.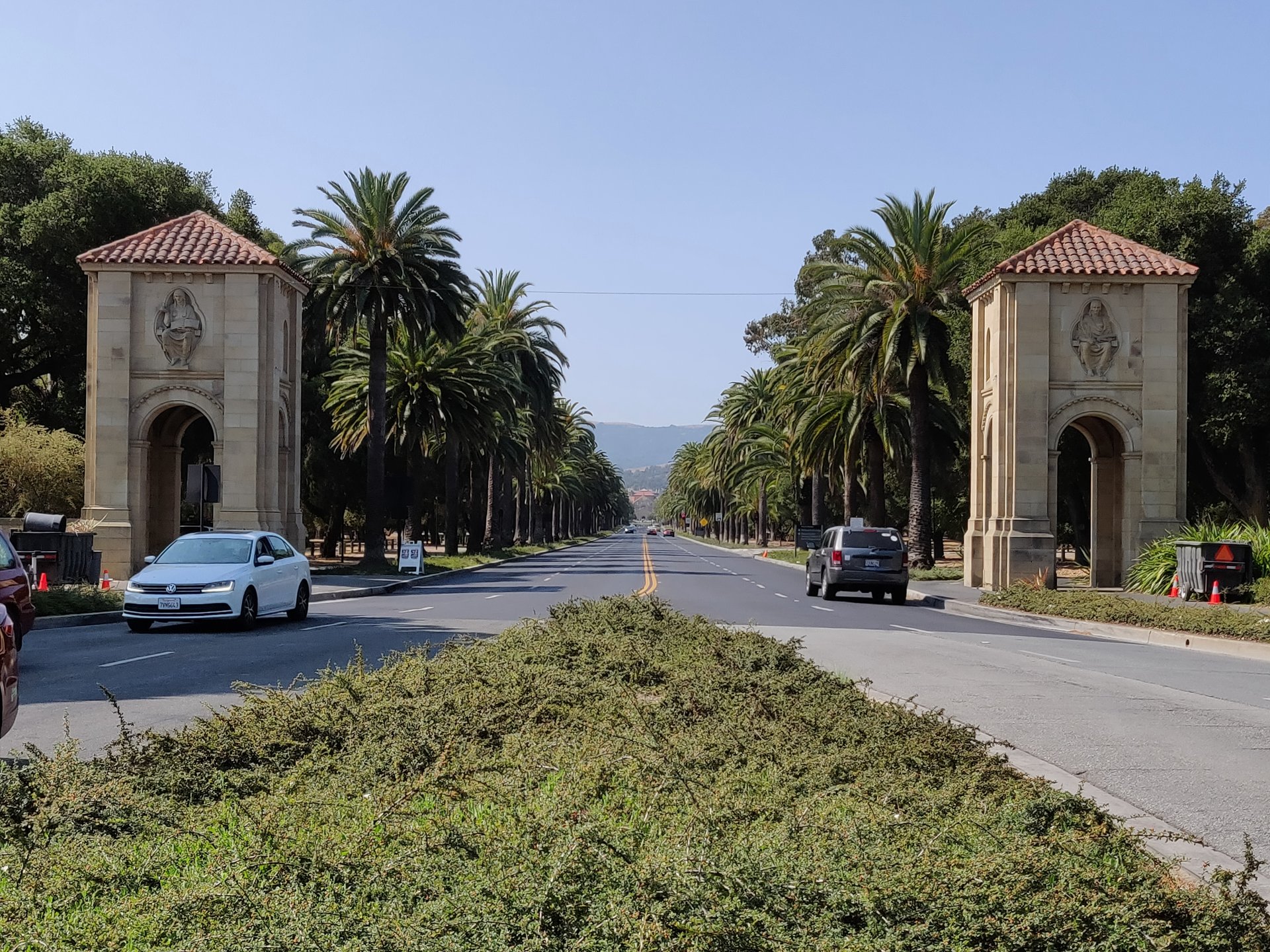 Image source: Ather
They had all sorts of fun. I'm not even sure what place this was but that's a really sweet view. Glad you guys got to experience it before heading back to your countries.
Oh and by the way, they did end up going to Target but they described it as "oh, we have big retail stores in our country too".
Mexicali Farewell Dinner
We didn't have the limo so we ended up taking 2 separate rides to the restaurant. That was the first time I ever took a Uber (I don't have a smartphone). There were new experiences left and right during this trip!
I wrote about Mexicali last time, but it's a respectable Mexican restaurant that's pretty close to the hotel. It's a common farewall dinner location for Tech Field Day events.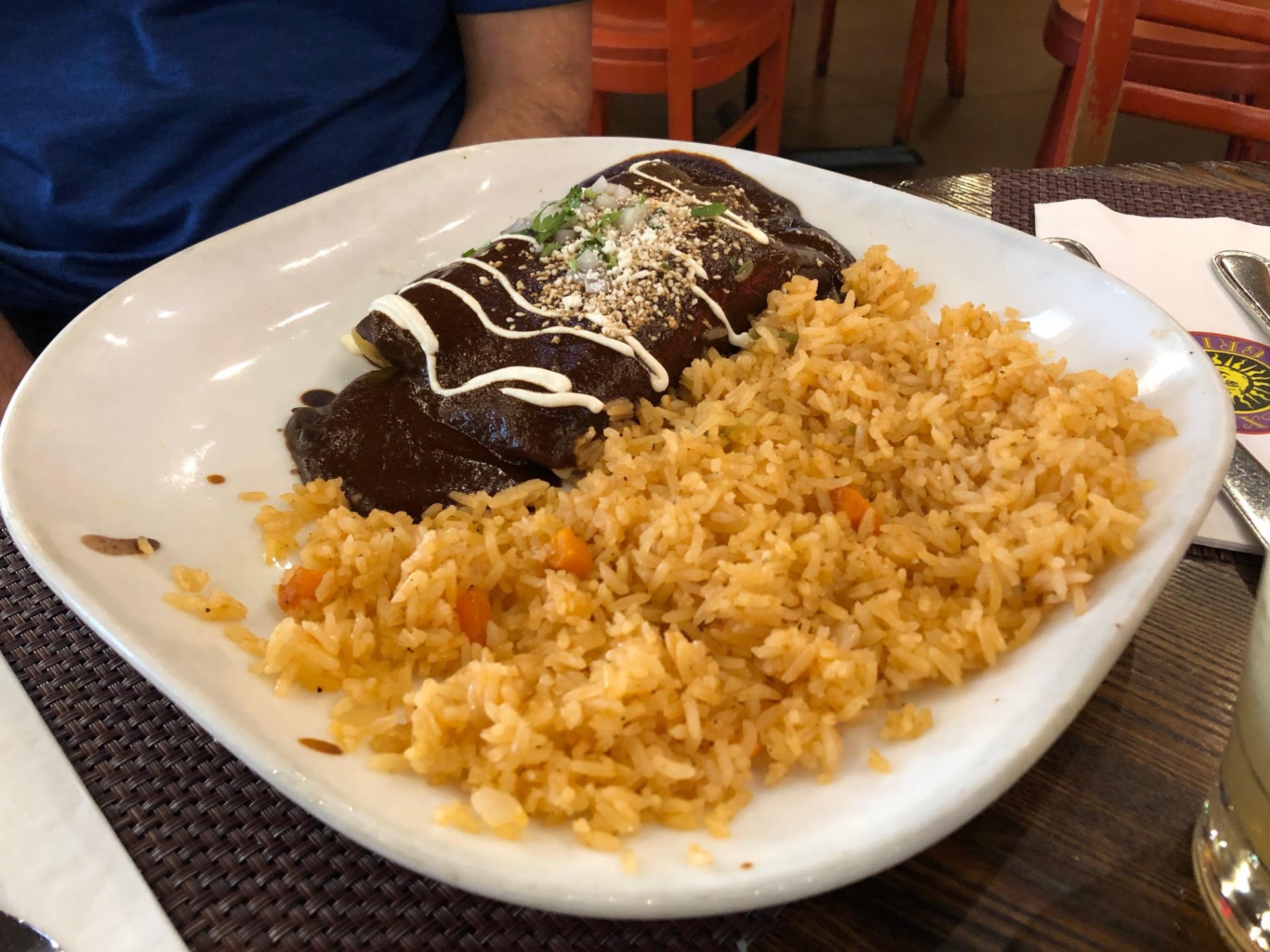 Image source: Stephen
The Mole Rojo was so good last time I couldn't resist getting it again. It's a mildly spicy enchilada covered in a dark Mexican sauce that has a touch of chocolate.
Of the 9 of us who went for dinner, 3 of us ended up getting it but we also had 2 vegetarians in the pack so really it's 3 / 7 people. Between Stephen and I talking about how good it was, we ended up with a 42.8% Mole Rojo conversion rate which is pretty strong!
Stephen left for the airport straight from Mexicali to catch a red eye back to where he lives. He didn't leave us alone though, Tom flew out the next morning.
After that we went back to the hotel and most of us hung out in the lobby's bar for a few drinks before calling it a night.
Keith, Nate and myself agreed to meet in the lobby at 5:20am the next morning because we were all flying out from SJC to BWI. Ken had an early flight too, but through a different airline.
Day 5 (Saturday): Leaving the Hotel
I set my alarm for 4:20am because I figured 1 hour would be more than enough time to wake up, shower, do last minute packing and handle a few emails since I personally handle all of the support requests from my courses.
Houston We Have a Problem
I slept pretty well every night of the trip except that last night. I don't think my body was used to that much alcohol. I had 1 dark Mexican beer at Mexicali along with a Margarita, followed by a massive double glass of beer at the hotel lobby.
By the time I got back to my hotel room the room was spinning at 10:30pm or so. I fell asleep by 11pm but woke up at 1am with the driest mouth ever so I slammed an entire bottled water in 10 seconds and fell back asleep until about 2:30am.
Then I casually laid down for the next 2 hours because I didn't want to fall asleep thinking I would probably sleep through the alarm. I'm not used to waking up to alarms at all.
Just Kidding! Refreshed and Ready at 4:20am
Despite all of that, I wasn't too tired. I don't know how, because at home I usually sleep a solid 8 hours with no interruptions most nights.
Everything went as planned and I headed down to the lobby at about 5:15am. Keith and Nate rolled in shortly after and we hitched a ride to the airport with the hotel's shuttle.
Error 404: Shirt Not Found
Keith was having doubts about packing his Apple shirt and sure enough he left it in his hotel room. The shuttle ride was only 5 minutes, so he decided to go back to the hotel to get it.
He called the hotel ahead of time and they had it waiting for him in the lobby before he even arrived. That's really good service.
We agreed to meet up with Keith at our gate.
Splitting up for a Bit
At this point Nate had to check 1 of his bags and I also needed to print out my boarding pass using the airport's kiosk.
After getting my pass I found Nate outside and we headed towards the TSA line.
It didn't look too bad but I don't think either of us took a good look at the line. I also remember last time it took a solid 40 minutes to get through on the same day and time.
Some company was pitching a way to skip the line with a free trial of their service and Nate signed up. I figured it would have been a long and involved process of providing a million forms of ID and personal information so I decided not to do it and stood on line.
Honestly, the TSA line was very short compared to last time, only a few minutes and most of the time was spent weaving through the roped off aisles while being sniffed by a dog. I only had to stop for about 1 minute while they put my backpacks through a metal detector.
We talked about eating breakfast together during the shuttle ride but they told me they were going to consume snacks on the plane. I ended up grabbing a quick egg sandwich in the airport after blazing through the TSA line.
At the Gate
We eventually all met up at the gate and had a solid hour before our flight took off. I managed to run into Keith while walking back from breakfast and we even managed to see Tom standing in line to get coffee. That was an unexpected surprise.
5 Hour Flight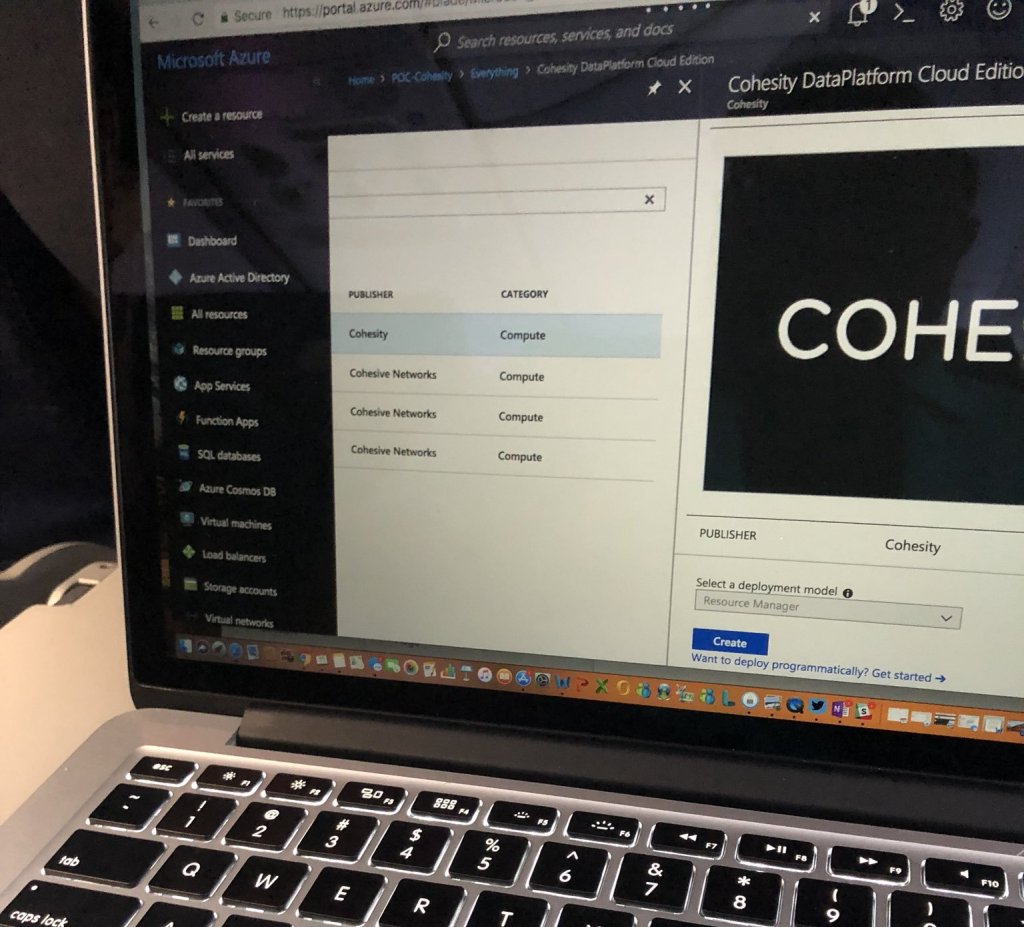 Image source: Nate
Nate was playing with SoftNAS' and Cohesity's services on the plane during our 5 hour flight. Keith was catching up on some writing and I pretty much looked out the window while listening to music and talking to Nate.
It was a full flight and the dude sitting next to us was reading The Making of the Atomic Bomb. Perfect reading material for a public airplane ride, wouldn't you say haha.
I knew I wasn't going to eat lunch in BWI so near the end of the flight I snacked on Belvita toasted coconut crackers that were provided by SouthWest. I was really impressed. I liked them so much I ordered a pack from Amazon after I got home.
Saying Goodbye
I only had 1 hour to make my connecting flight so I was prepared to say a quick goodbye and Usain Bolt it to my gate but I got lucky. We landed 2 gates away from my connection.
Ended up getting there 10 minutes before it started to board, so I walked with Nate down to the baggage claim while on the way to a restroom. That's where we parted ways.
I don't know what happened with Keith, he was sitting a few aisles ahead of us. Maybe he was eager to get back to his family because he mentioned they were picking him up at the airport. Both of them lived local to the BWI airport.
Home Stretch
After all of that my flight was delayed for 30 minutes and they said it was due to the pilot and flight crew coming in from Dallas being brand new. You can never tell if they are being serious since SouthWest likes to joke around.
In any case, it was nice to walk around the airport after a 5 hour flight.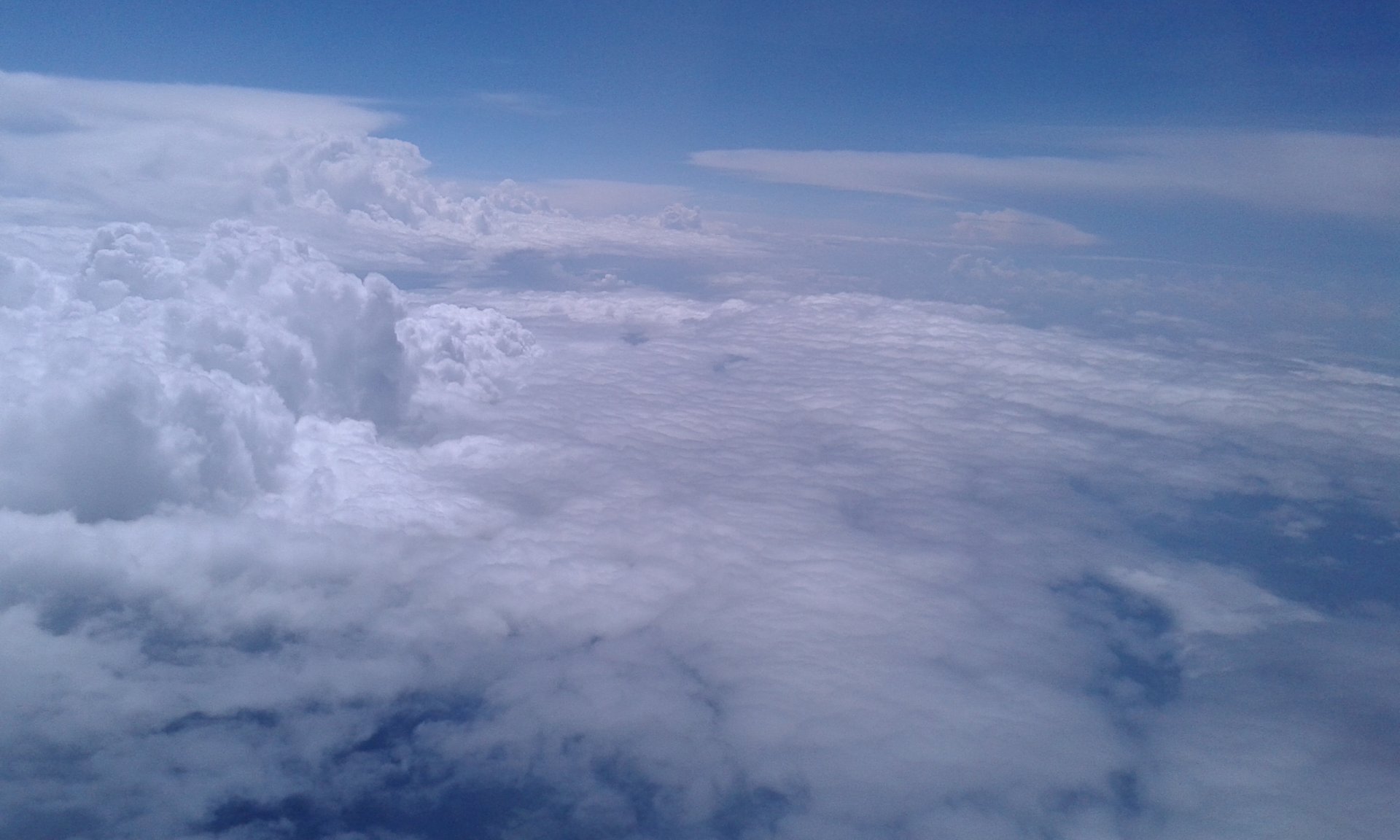 Image source: Nick
We flew around some really cool looking clouds and it was only a 1 hour flight. Double win.
Final Thoughts
I noticed I asked more questions during these 5 presentations than I did in my first CFD with 9 presentations, so if you were a first time delegate this time around but didn't feel like you spoke up enough, don't sweat it. It does get easier the next time around, even if you're not an expert in every vendor's services.
Another thing I noticed is it might (read: might!) be time I join the rest of the world and pick up a smartphone. I felt like I missed out on a lot of picture opportunities and potential tweets. Definitely couldn't have made this post without all of your great shots!
I hope everyone had as much of a good time as I did. Thanks again Stephen and I'm looking forward to seeing all of you again in the future.
Missed the Event?
What did you think of Cloud Field Day 4? Let me know below!