Reviewing Tailkit (300+ Tailwind Components) and Giving Away 2 Copies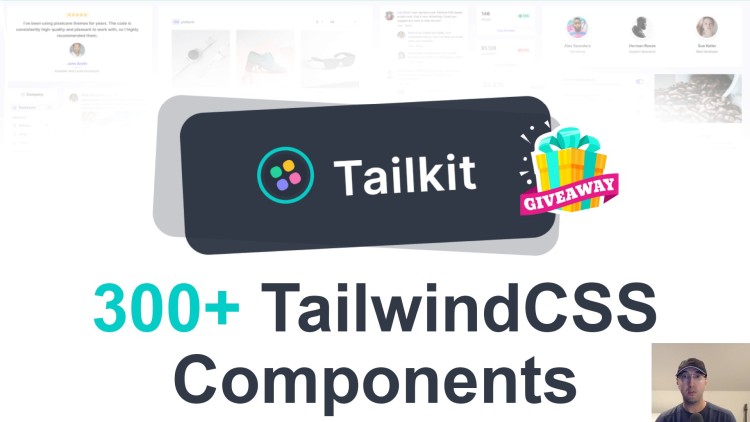 Tailkit has 300+ responsive TailwindCSS UI components, layouts and pages. We'll go over how I'm using it in a few projects.
Quick Jump: Reviewing and Using Tailkit
I've been using TailwindCSS for a number of projects over the last year or so and since I resumed building my custom course platform I wanted to use something that makes it easier and faster to build out UI components since I'm not primarily a designer.
This is where Tailkit comes into play. We'll go over what it gives you and how I'm using it on a few projects, both for myself and for client work. The author of Tailkit also gave us 2 copies to give away (it's a paid product), the details are in the video.
Reviewing and Using Tailkit
Timestamps
0:25 – Getting a feel for Tailkit and giving away 2 copies
1:12 – I was given a free copy of Tailkit to make this video but…
2:48 – Comparing the pricing plans and getting free lifetime updates
4:32 – Checking out a few Tailkit components
8:02 – Going over Tailkit's changelog and recent updates
8:53 – Taking a look at even more Tailkit components
12:45 – Creating a landing page and pricing tables
17:00 – Looking at a few Tailkit inspired contact and landing pages
20:01 – A few other components I used from Tailkit in a dark theme
21:58 – Taking a look at a few sidebar navigation lists
23:30 – A dark theme sign in page
24:46 – Creating a custom course watching and Q & A page
28:26 – Using Tailkit's footer component on a few sites
29:35 – Responsive video using Tailwind's aspect ratio class
30:26 – Is it worth buying Tailkit? What about TailwindUI?
31:19 – Giving away 2 copies of Tailkit
33:18 – Creating a consistent feeling UI even if you get Tailkit and TailwindUI
Reference Links
Are you planning to use or already use Tailkit? Let me know below.