Sennheiser HD 201 vs Sennheiser HD 202 II for Budget Death Metal Headphones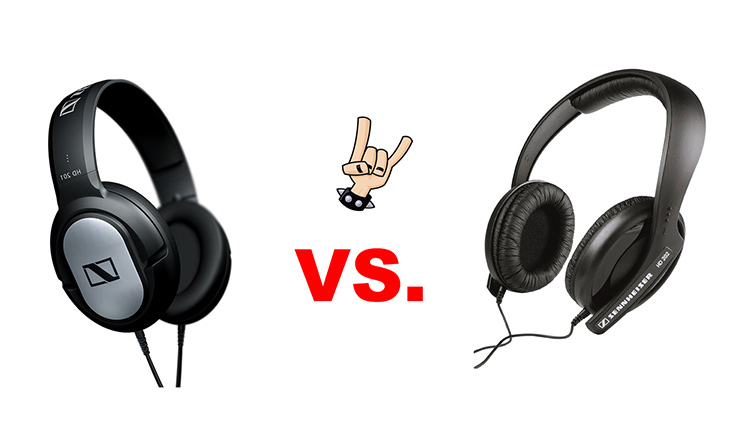 Learn what music I like and see if it matches your tastes, then we'll cover what I thought about both of these headphones.
Quick Jump: Am I a Good Judge to Compare Headphones? | Sennheiser HD 201 | Sennheiser HD 202 II | Bottom Line Comparison
I listen to all sorts of music. Everything from the craziest deathcore bands you could possibly imagine, to trance and classical music.
The majority of what I listen to could be labeled as melodic death metal or deathcore. How you label it isn't important, the point of this article is to compare 2 budget headphones that are commonly referred to as the best sub-$100 headphones available and both cost less than $30.
Here's a couple of songs from my play list that I compared the headphones against:
I recommend listening to the intros to these songs and then skip around to get a general idea. These are listed in the order they are in my play list, not preference.
Am I a Good Judge to Compare Headphones?
Who knows. I'm a software developer and I tend to wear headphones quite often for extended periods of time. I also play the guitar as a hobby but I don't have any expensive headphones to compare the quality to.
I don't think that matters because this article is about budget headphones. I am sure you could find something better than either of these if you don't mind dropping $150 or $350+. If you're interested in mid-range headphones I have another shoot out review in the $80-150 range.
Sennheiser HD 201
Price: $16
Release date: April 2005
I used them for: 4 years
Comfort Level
Very comfortable. The ear cups on the headphones encase your ears in an open way, meaning you feel very little pressure. I've gone years of wearing them for 8+ hours a day without issues. You can barely notice they are on.
They felt great from the moment I put them on.
Check Them Out on Amazon
https://www.amazon.com/Sennheiser-201-Lightweight-Over-Headphones/dp/B0007XJSQC
Sennheiser HD 202 II
Price: $25
Release date: May 2010
I used them for: 1 day
Comfort Level
Not too good. The ear cups are much smaller than the 201s and the head band is much less wide than the 201s.
Imagine what it would feel like if an alien parasite were trying to crush your skull. Even after expanding them and trying to bend them outward, I could feel my heart beat pulse in my temple.
I'm going to assume they will stretch out naturally but one thing is for sure, the 201s were never remotely close to this uncomfortable.
Check Them Out on Amazon
https://www.amazon.com/Sennheiser-202-Professional-Headphones-Black/dp/B003LPTAYI
Bottom Line Comparison
I went in wanting to upgrade my 201s but I can't just do it. Out of all of the songs listed above and more the overall quality is simply worse with the 202s.
The 202s have so much more bass, but it's not bass in a good way. The break downs all sound worse and the highs on the 202 are incredibly condensed sounding and awful. The mids are drowned out too. I'm honestly surprised the 202s have such high ratings.
The 201s sound much more thin compared to the 202s because your ears aren't suffocated to the point where they hurt and the bass is much more level. The highs sound much more natural and the mids are clear.
My question to you is, what's your opinion on both of these headphones, or better yet, can you recommend a pair of headphones in the $50 or less range that out perform the Sennheiser HD 201s?